When the Nativity rolls around, John Cecil once more feasts his tenants at Plumbob Hall. At his right hand sits his eldest son Roger, in a garish yellow doublet.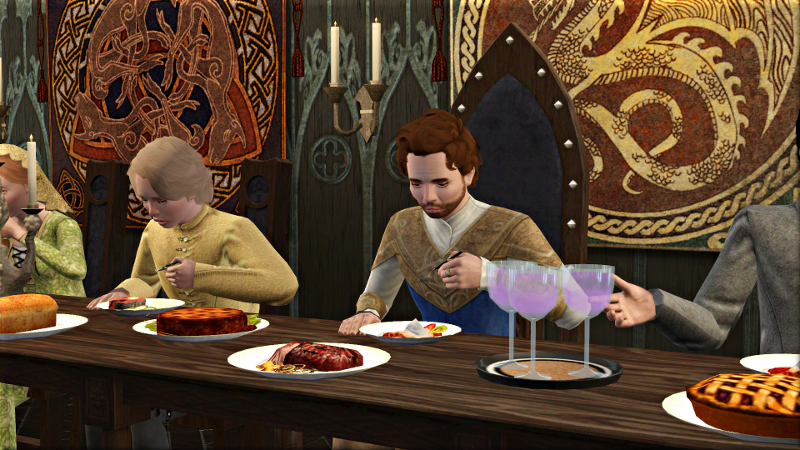 It is an unlucky colour, some used to say; Lord Snordwich wishes he had made time to have Roger fitted for something else. But the boys have only been home from university since last night, and will away again in a few days' time.
His younger son, serving nectar with Ansellus and Thomas, has attired himself more sensibly in festive holly green.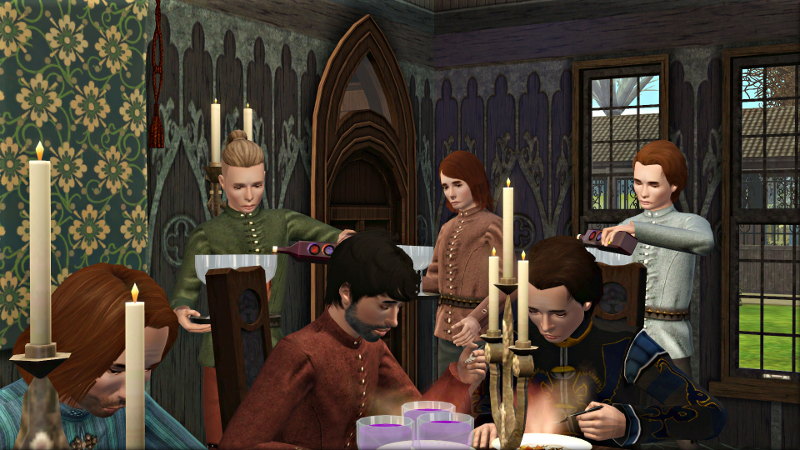 He has had many letters from Fabyan while they have been away in Effenmont—bizarre pieces of writing, comprised mostly of lists of subjects in which the boy claims he is doing better than his brother. Fabyan is only trying to gain his approval, Rohesia would no doubt have said.
From Roger, he has had no letters. His eldest son resents him, he is sure. But he has always been so difficult: ungainly, slow-witted, and somehow hot-tempered and cowardly both at once. None of the prescribed diets seem to have helped at all.
When the dancing begins, Roger trips over himself as he always used to do at practice. At least Lord Effenmont is not here to see, his father thinks.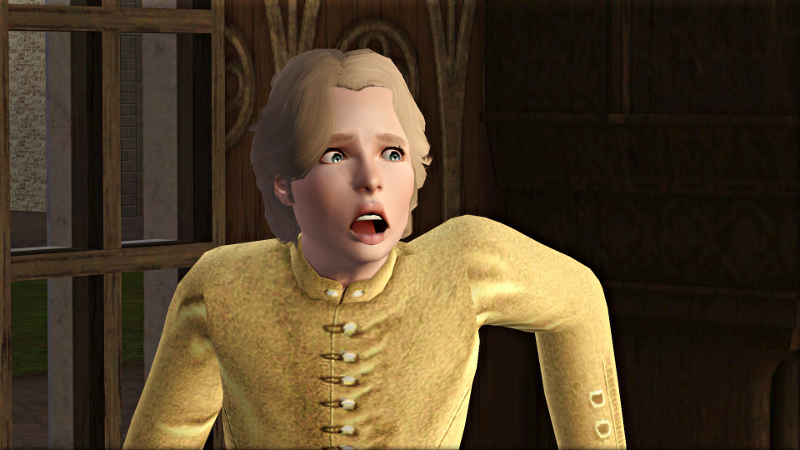 Roger's wife, though, dances beautifully, with poise and flair.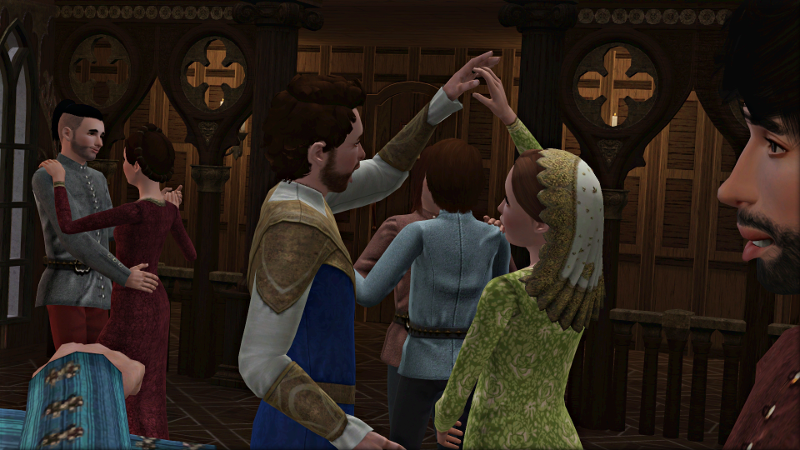 And his own eldest daughter Aldiytha seems to be having fun.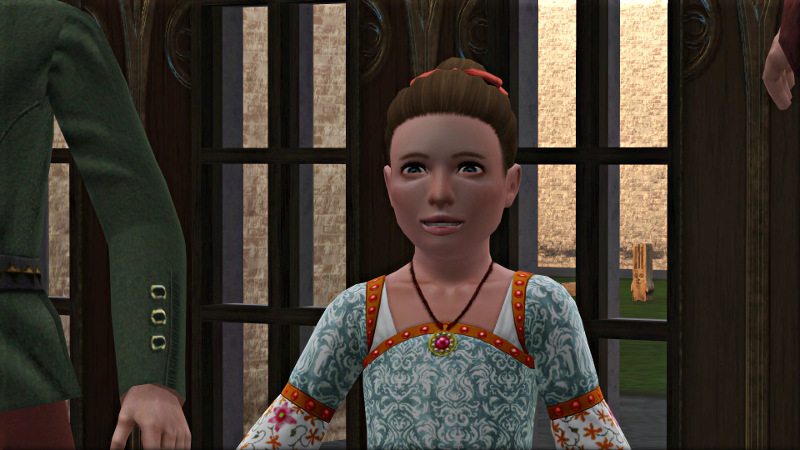 Since his Rohesia was taken, Aldiytha has been the chief joy of his life, brightening up every day with her smiles and jests.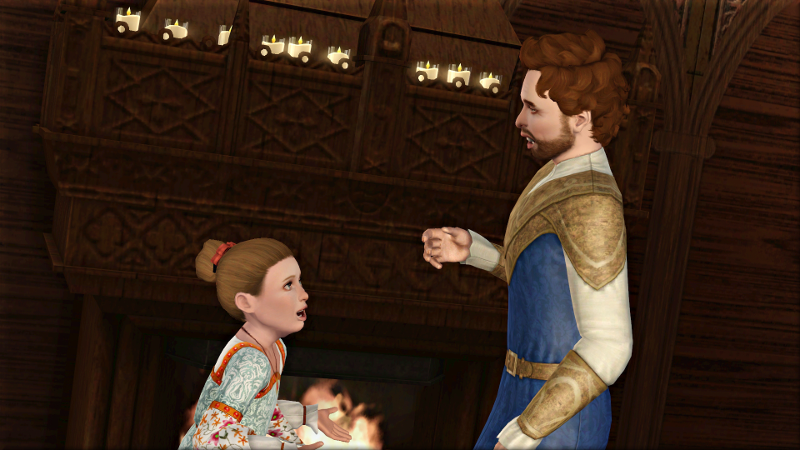 The girl has been offered a position in the service of Lady Elaine, Tredony's daughter, and the daughter-in-law of his old friend Burdley. But he has delayed sending her for weeks now.
He has been out of mourning since the end of autumn, though still not a day goes by in which he does not think of his wife. He will remarry when he finds the right woman of course: his daughter-in-law will need someone to set a good example for her; so will his own two youngest, Linyeve and Geva, until he can find husbands or places for them. But he cannot imagine who could possibly compare.
At his New Year's Eve feast, his vassals' daughters dance for him. They are all still girls. He needs an older lady of gravity and experience, who already knows how to be a noble wife and mother.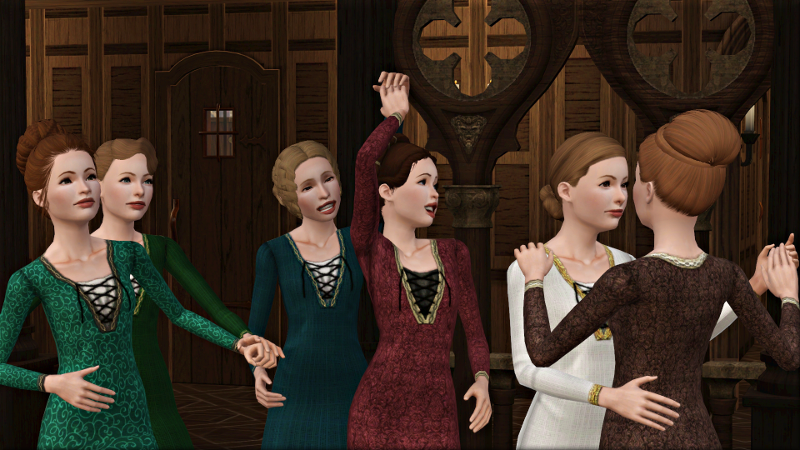 He is glad to see the girls' fathers. Clerinell is on his way to his eldest's wedding feast in Effenmont, but Sir Thomas he invites to stay for a the next few days. They could go hunting together if the weather is fair.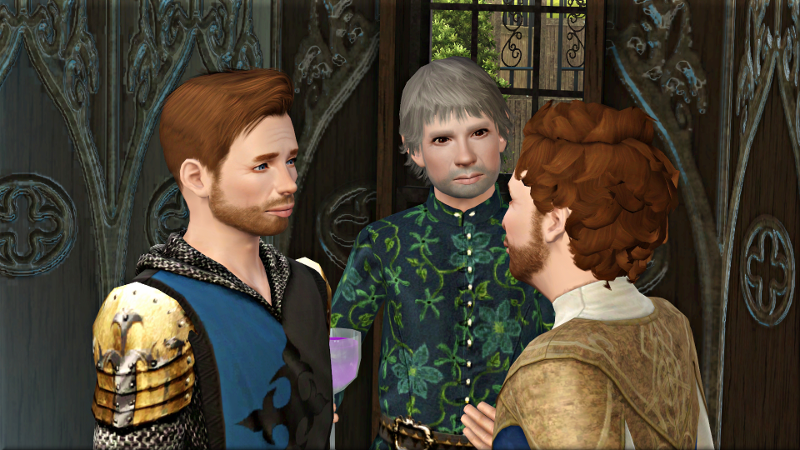 The old friends are forced to abandon their plans when, the following day, a messenger arrives, bearing a letter fastened with the king's own seal. The young man is admitted without delay to the hall to present himself before the high table.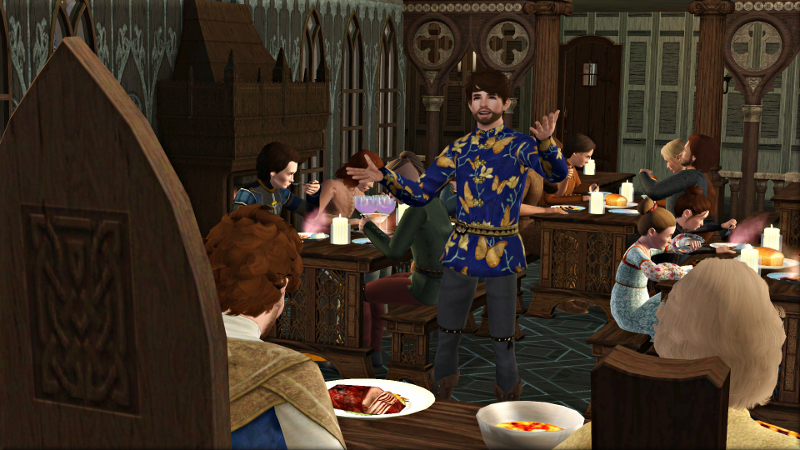 The baron breaks the seal and reads through the letter. His majesty is calling all peers of the realm to a parliament in Advorton to review the tax laws.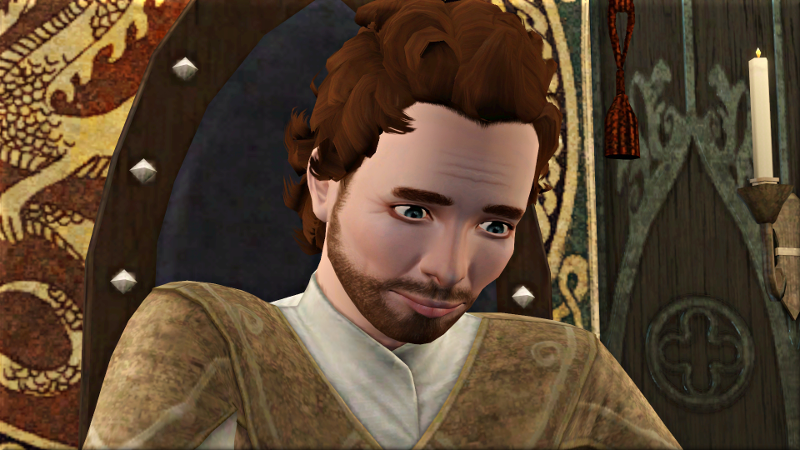 The royal castle is several days ride from Snordwich, so he will need to leave as soon as possible. At least he can drop Aldiytha off in Burldey along the way. He should perhaps take Roger with him too, but he decides that the boy is probably better off hidden away in Effenmont University.
He entrusts the stewardship of his house and lands to Gilbert Grancourt; there is no man more conscientious.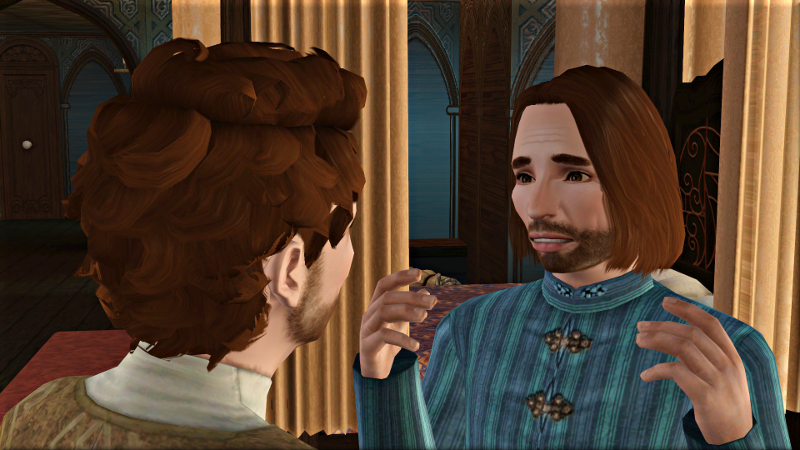 He wants Sir Thomas with him in Advorton. He decides also to take his attendants John Postel and John Ros, and to invite Effenmont's nephew Sir Jacquemon to come with them too.
The very next morning, they all depart: Roger, Fabyan and Ansellus for Effenmont, and Aldiytha, Lord Snordwich and his party in the other direction, through Burldey, Gastrobury and Tredony, and finally on to his majesty's own residence in Advorton.
Aldiytha is not too sad to leave the family home. Her horse is now big enough to bear her all the way to Lord Burdley's household, where she is sure they will have all kinds of exciting adventures.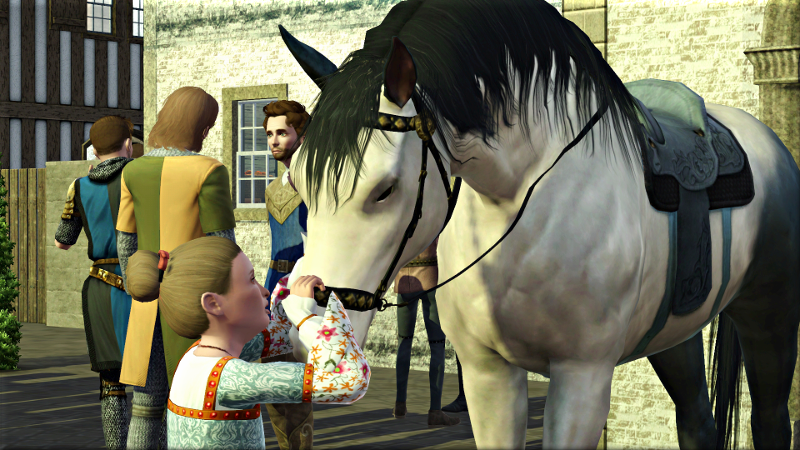 But Marian Ros is loathe to see her little brother go. She has so enjoyed getting to know him since he came to Plumbob Hall last spring.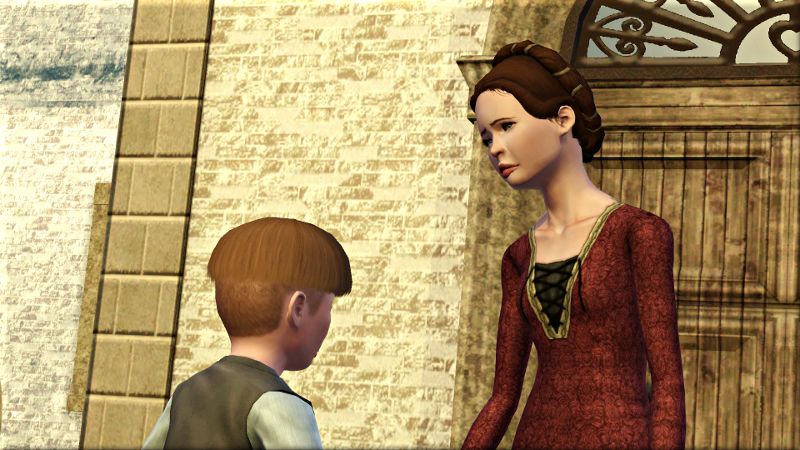 As he takes his leave, their father tells her that her wedding to Sir Vincent must now be postponed.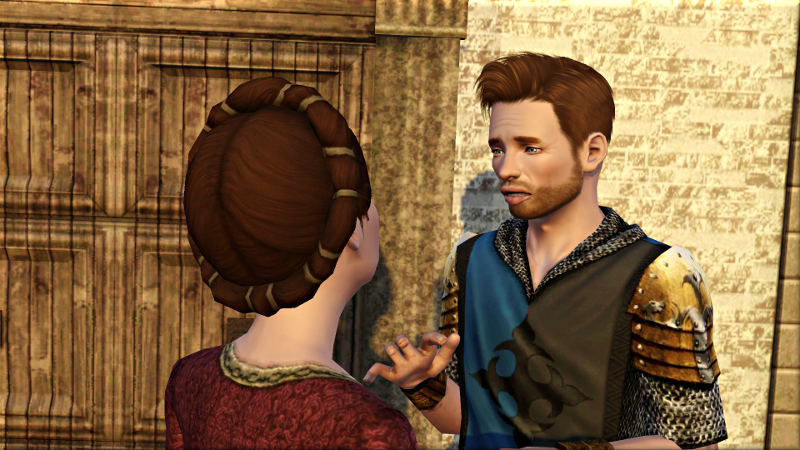 This grieves her less. She has her new mistress, the future Lady Snordwich, to serve until then.
She finds Matilda difficult to get to know at first; she is so proud and distant.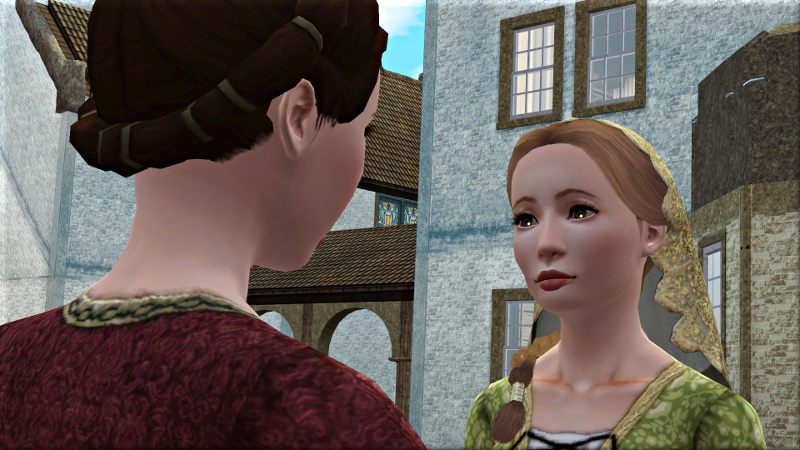 The young lady does like flowers, though, Marian learns, and to have dried lavender tucked into her pillowcase, and, most of all, to hear herself praised.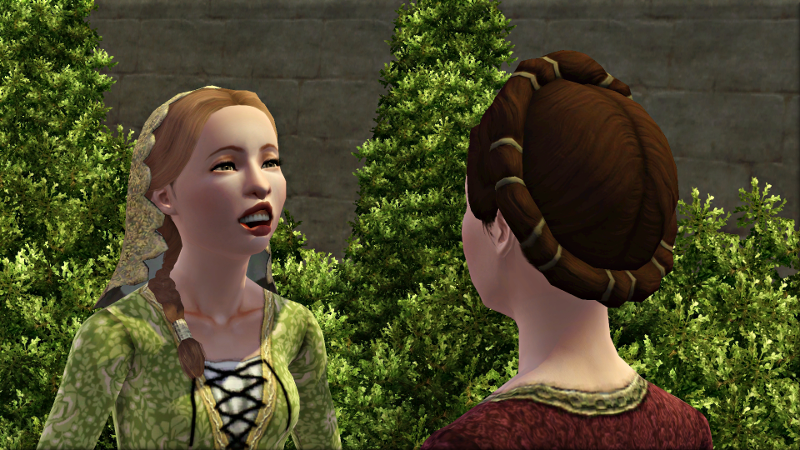 Matilda loves music too, as her predecessor did, although she prefers to sing than to listen.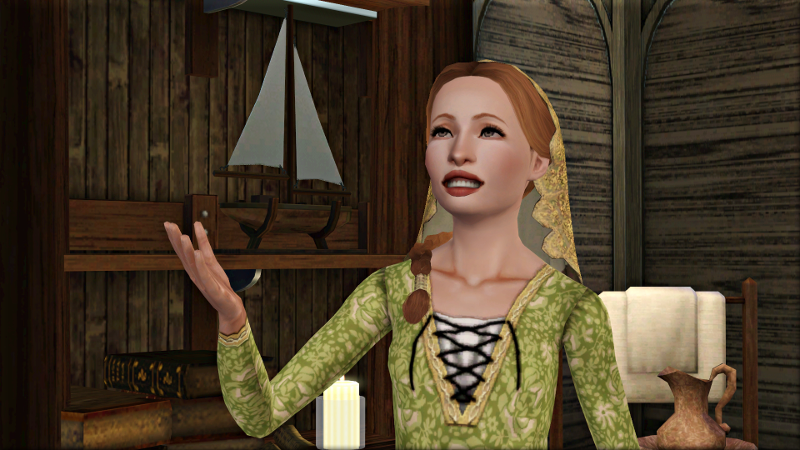 The girls do not speak of Matilda's husband, Master Roger, except in the most general and flattering terms.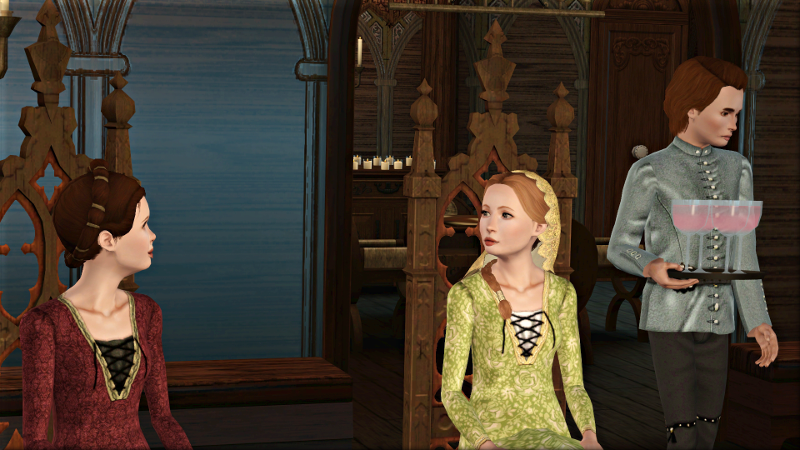 The two are always together, save when Matilda makes confession to Chaplain Darcy. Then, Marian steps outside to visit her former mistress' grave.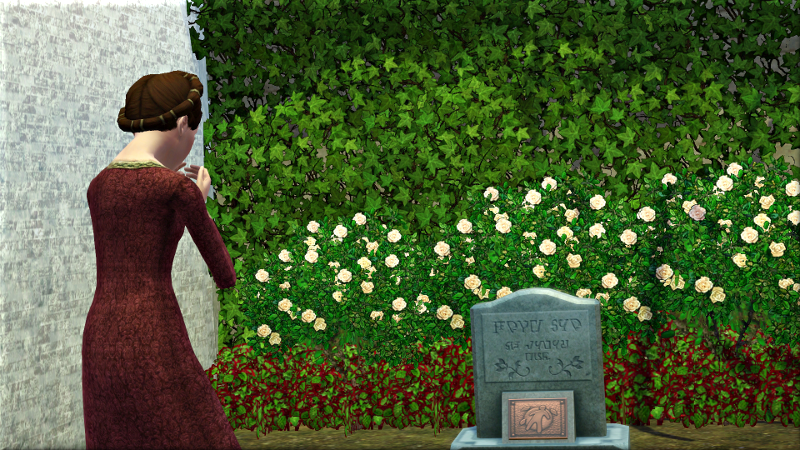 Lord Snordwich has laid his wife to rest not in the dark family crypt, but in a small garden by the chapel. Marian knows it was the right choice; her ladyship could not stand to be cooped up indoors. They should have taken her out into the fresh air the moment her child was born, and not let her die in that stifling room.
Marian has not been back to the room since. In the baron's absence, the girls have been given the use of the great chamber. Each night, Matilda takes Marian into her bed, as her ladyship used to whenever her husband was away.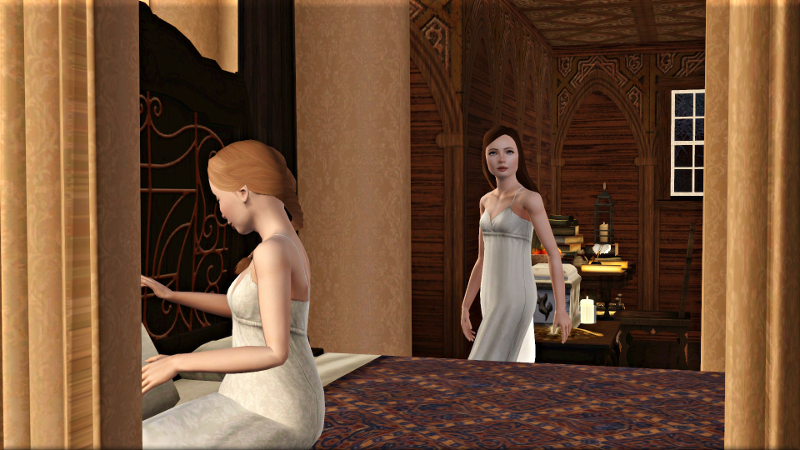 In the midst of winter, it is wonderful to be tucked up under layers of blankets, so close to the warm fire.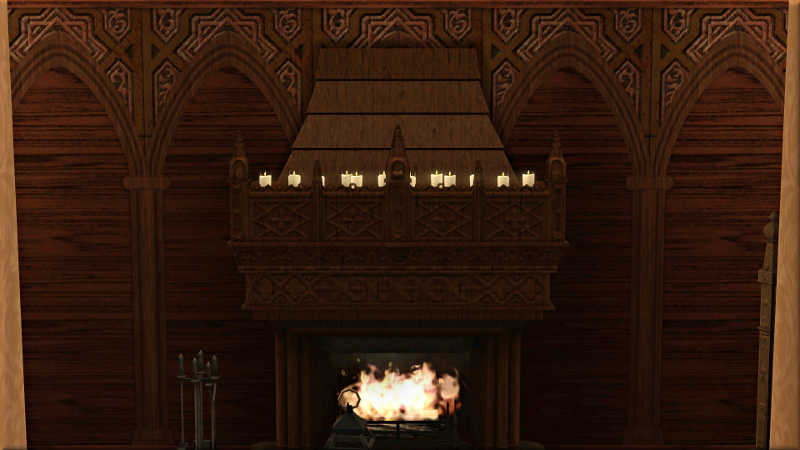 Marian will have a room like this of her own when she marries Sir Vincent, she supposes, though it will surely be less grand.
On Thursday night, she wakes to hear Matilda crying.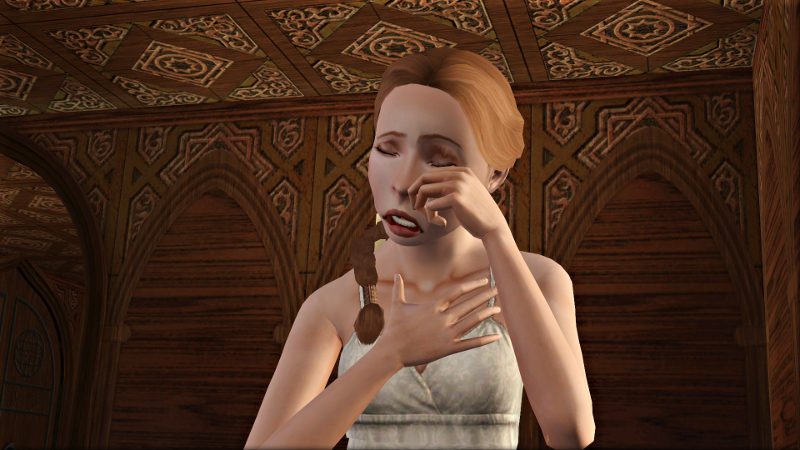 Marian comforts her.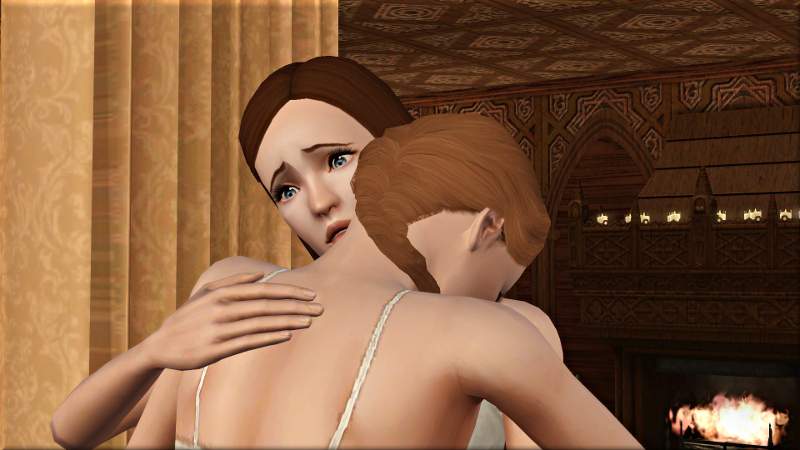 She misses her brother, Matilda confesses. She and Jacquemon have never before been parted, and now he is far away in Adovorton with Lord Snordwich.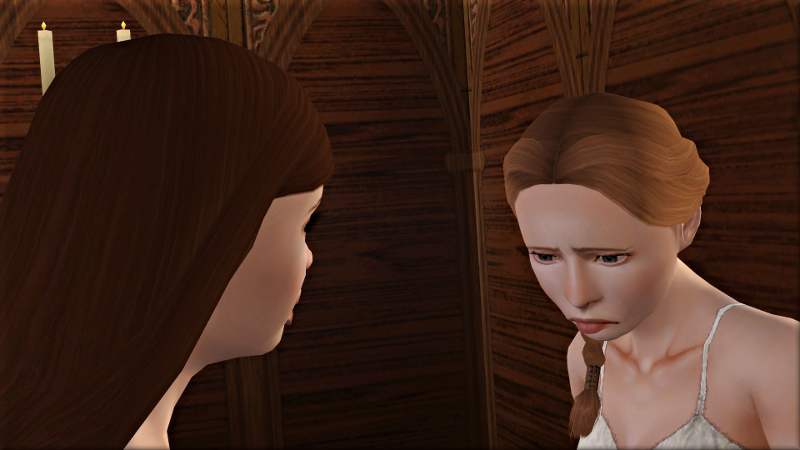 Marian thinks she understands. Plumbob Hall is Marian's home, but her new mistress must feel lonely and uncertain there, even more so now her dear brother is gone. She promises that tomorrow morning they will take  a walk in the forest to see the first primroses in bloom. Then, in the afternoon, they can both write to their brothers and tell them what they have seen.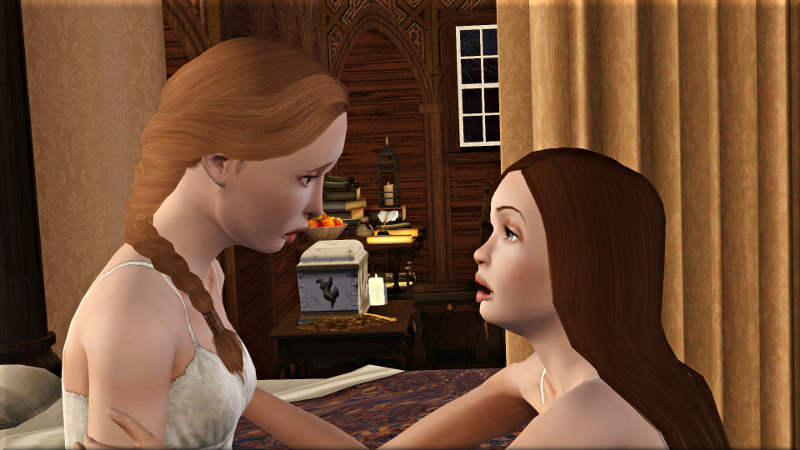 This makes Matilda much happier.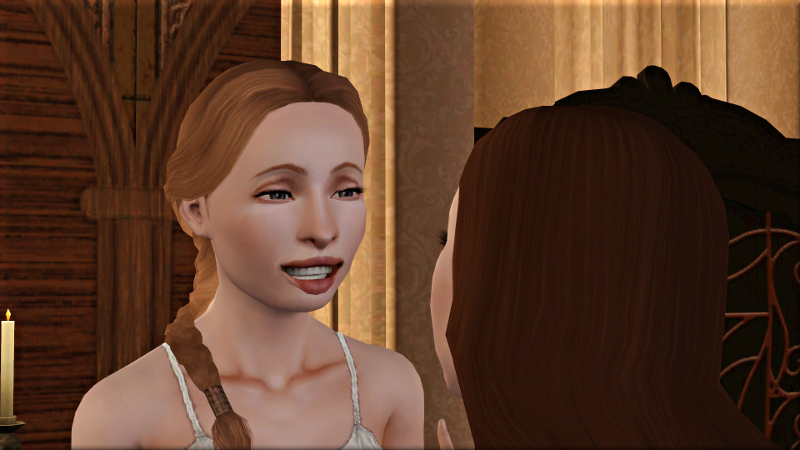 When morning comes, and Marian has her dressed, she looks as dignified as ever.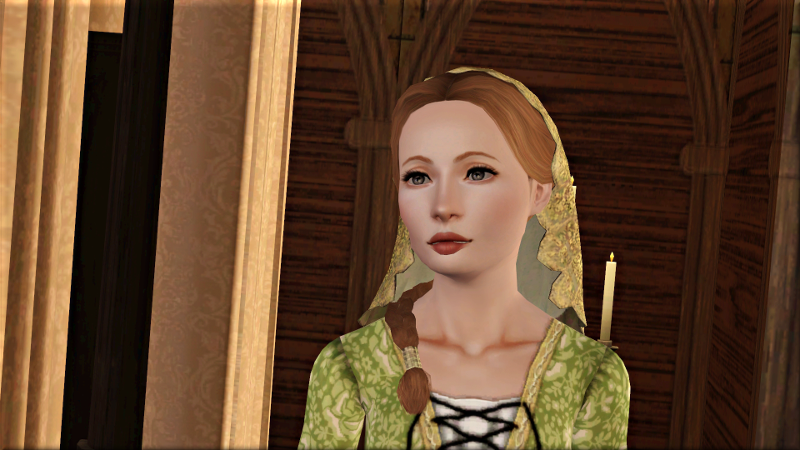 Marian begs Filbert and Thomas not to mention anything they heard the night before, not even to Matilda herself. She has enough of a sense of her mistress now to guess that she will feel ashamed if she suspects that the men pity her.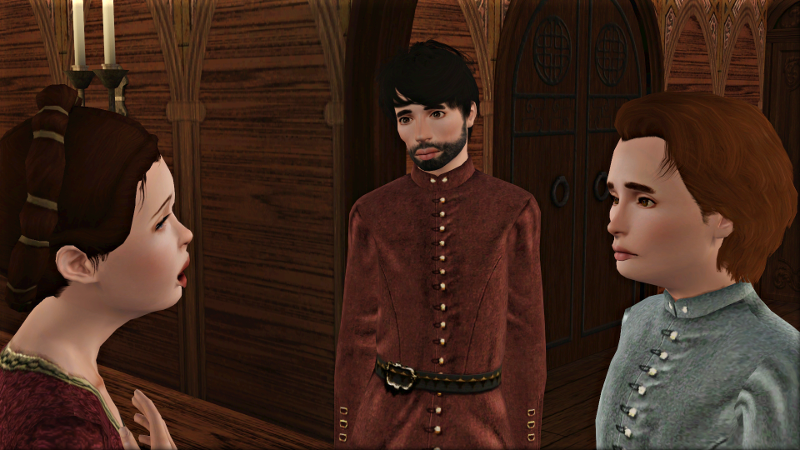 Thomas comes with them on their walk, as do his lordship's two youngest daughters Linyeve and Geva, their nurse, and Chaplain Darcy.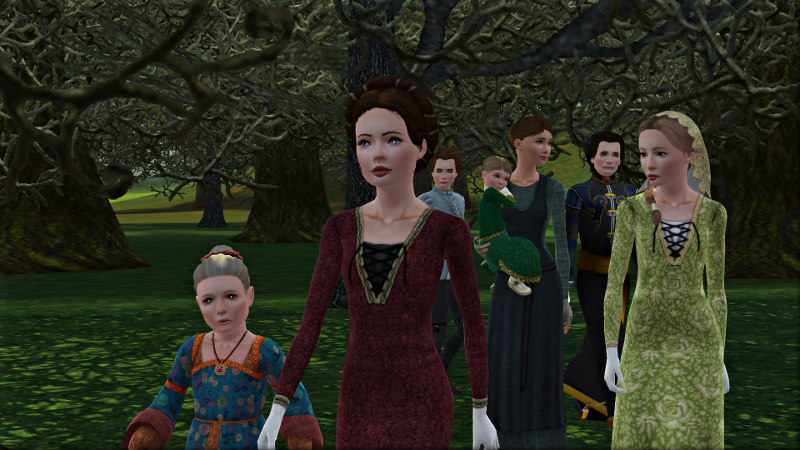 Darcy tells them all about the different rocks and shrubs.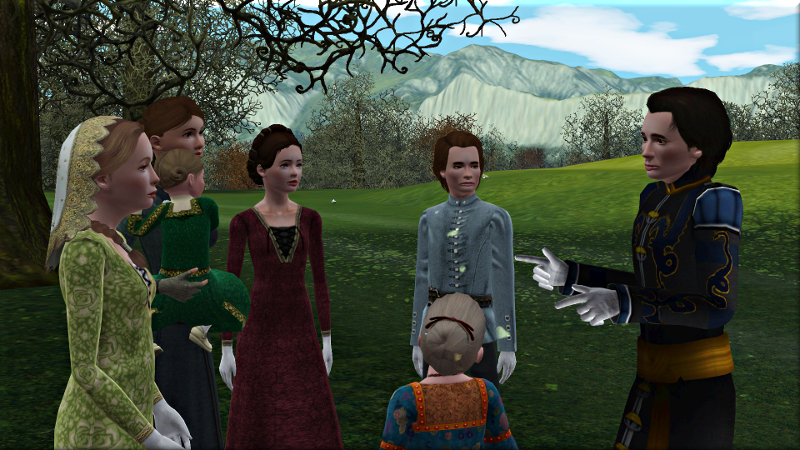 Lunch is waiting for them when they return. It is a fast day, but Marian could not be more pleased with the meal, since she prefers fish to meat anyway.
Matilda sits in her father-in-law's place, with his chief household officers to her right and left.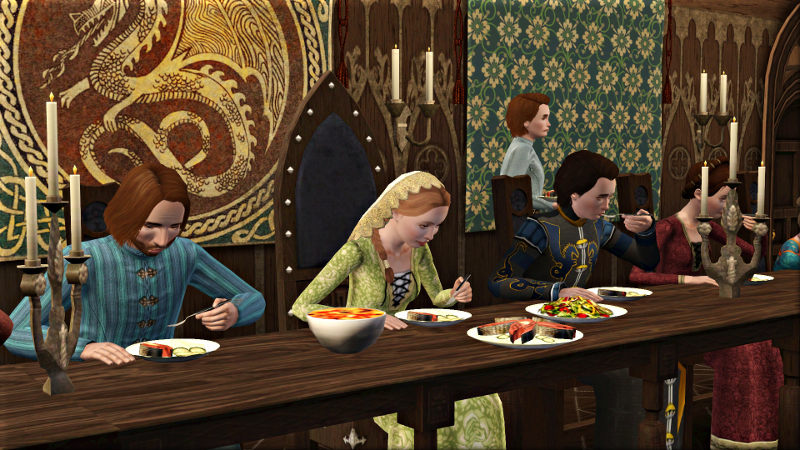 After lunch, the girls write their letters. Marian's brother John loves the winter; she is sure he will be glad to hear about the birds and plants they saw.