With business at the bakery slow, Tephna has plenty of time to spend with her friend Jaclyn.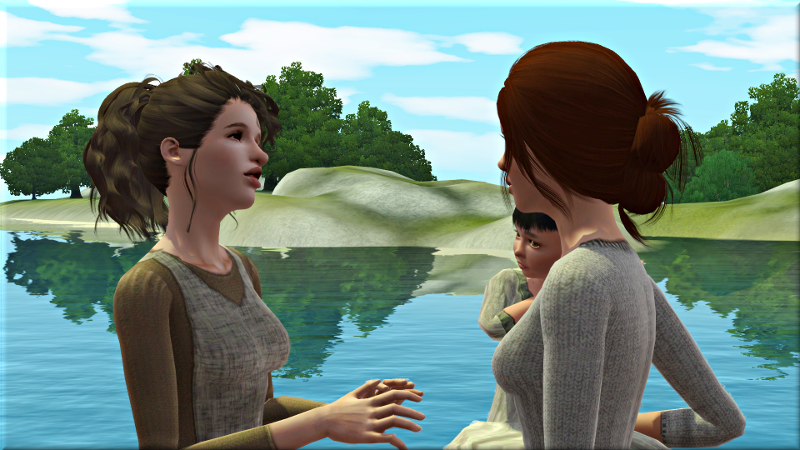 Their brothers like to paddle in the river, now that the weather is starting to get a little warmer.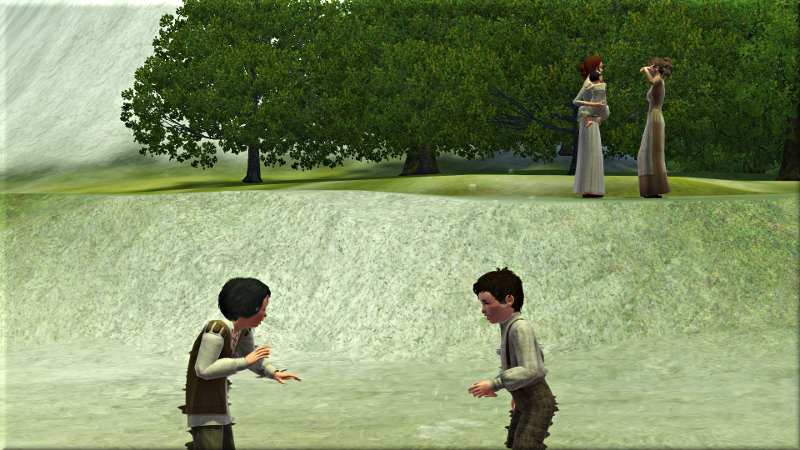 In the afternoons, Tephna continues her lessons with Eda.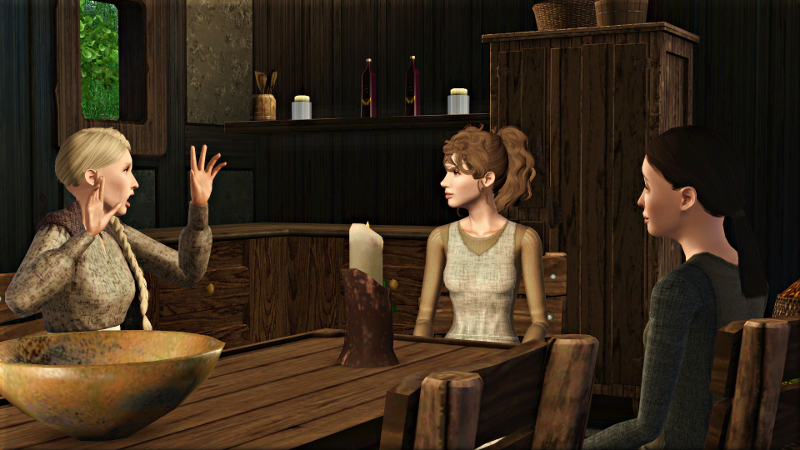 Eda's husband and son are out most days, weeding the garden or fishing in the river. On Monday evening, they come home with bad news from the kitchen: the baron and most of his household are still away, but now his daughter-in-law plans to leave too, to visit her aunt, it is said. There will be little call for fish up at the great house until she returns.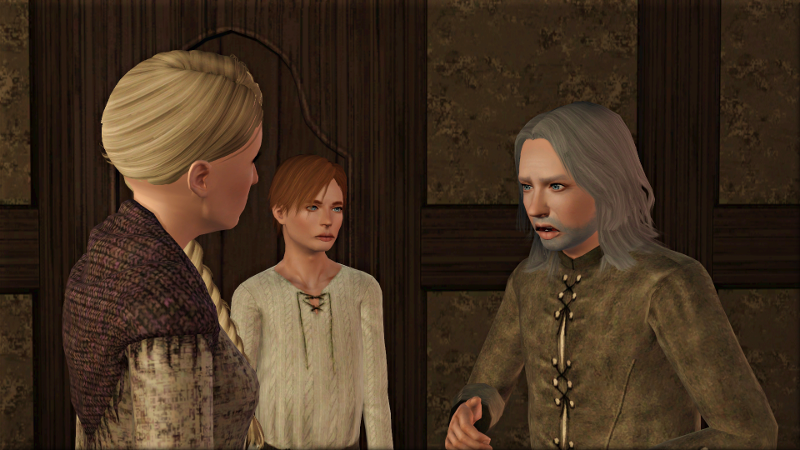 It will not be worth the cost of renting the boat now, William says.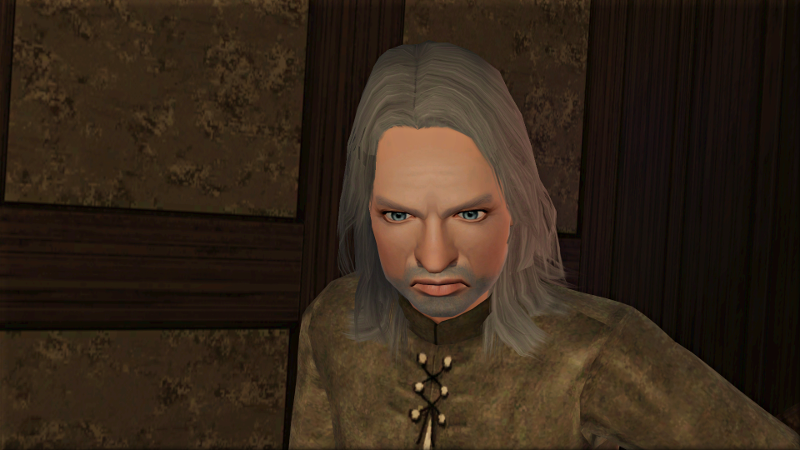 They can at least have what he's caught for supper tonight. Eda invites Tepha to fetch her family over to join them.
Gilbert gapes at Oriel all through the meal. Tephna is not surprised: the village boys are all captivated by her sister's shiny golden hair.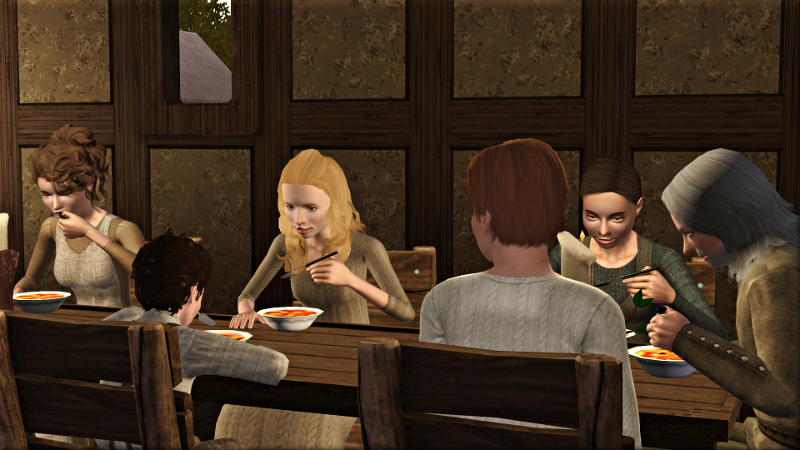 In the morning, the villagers come out of their houses to watch the young mistress ride away with her handmaid and gentlemen.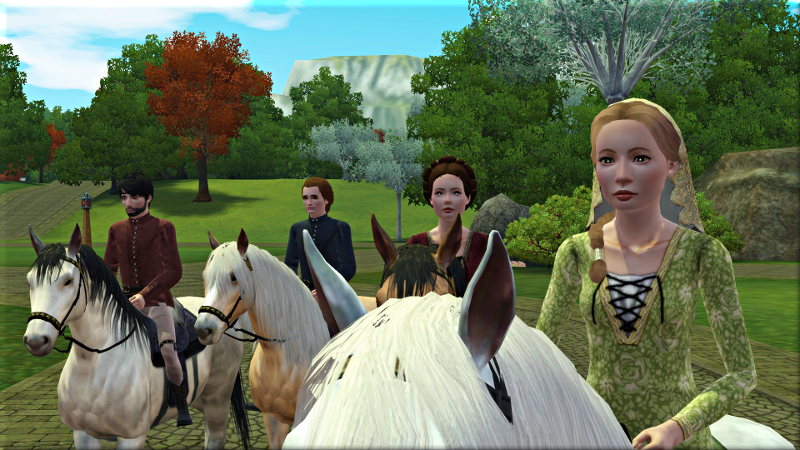 By now, the Jardines' mint bushes are ready to be cut back. This herb has many marvellous properties, Eda explains: it is good for the head, chest and skin, settles the stomach, stimulates the appetite, and cleanses the blood. Garlic can do much of this too, but it is too strong for women when they are with child.
Tephna learns how to boil the mint leaves with nectar to drive out a chill, or with honey to cure a cough.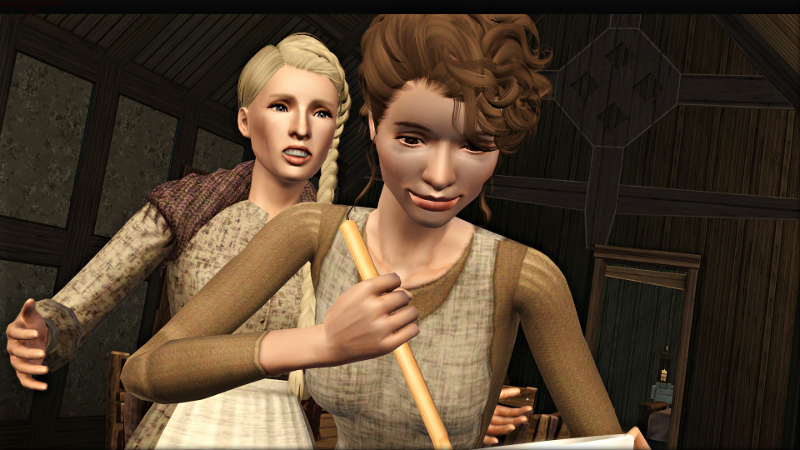 She has her own family's garden to look after too. At the moment there are only spring greens, but in about a week the strawberries will be ripe.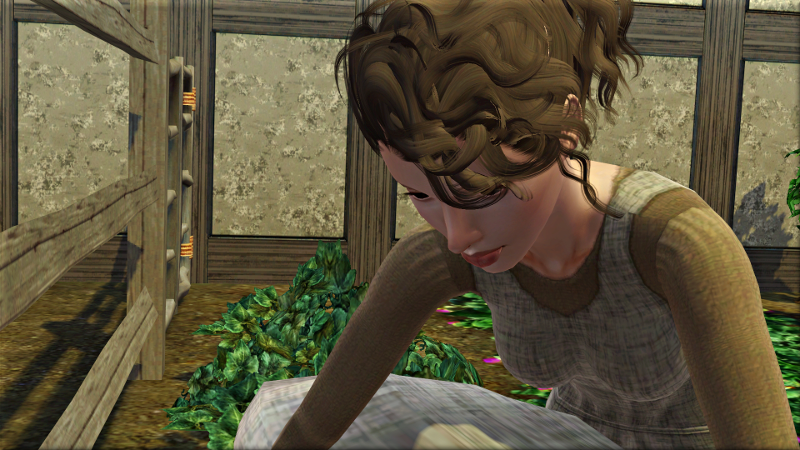 For the Feast of the Water, Tephna's mother gives them all new clothes. She does this every year, always wanting her children to look the smartest in the village. Tephna's dress is of soft, light wool and her apron is undyed flax.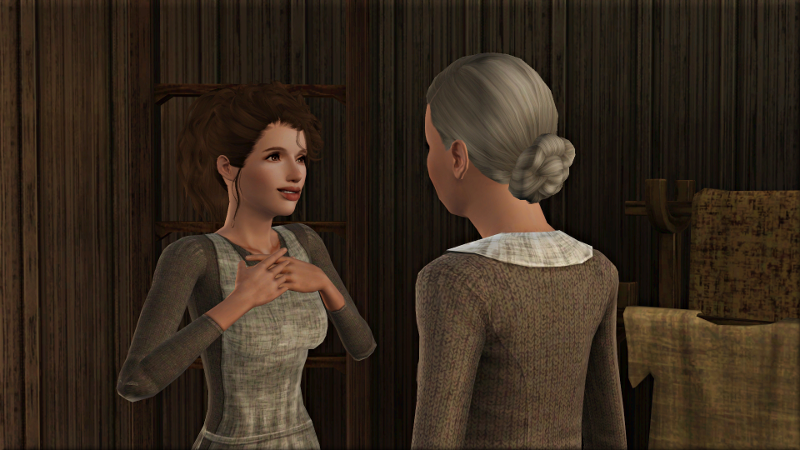 As the sun rises, everyone gathers to sing outside the church.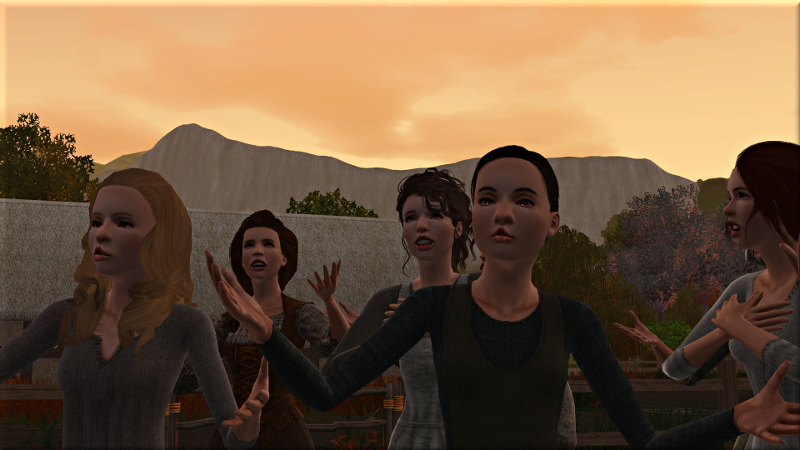 After the morning sermon, the wives come to bake their first loaves of the feast.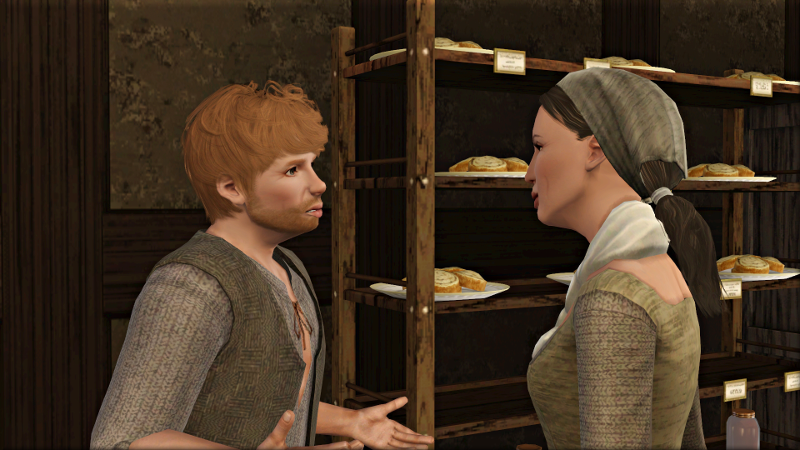 Jaclyn and her mother are on their way to visit the Window Fowler and her children with a basket full of cheese and pickle.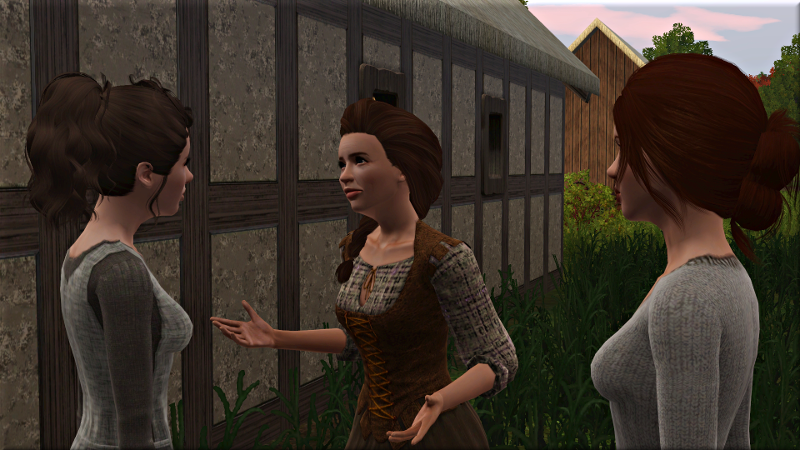 For their own lunch, the baker's family have chicken and beetroot pie, sweet nectar soup, steamed greens, spiced buns, and a thick cheese omlette.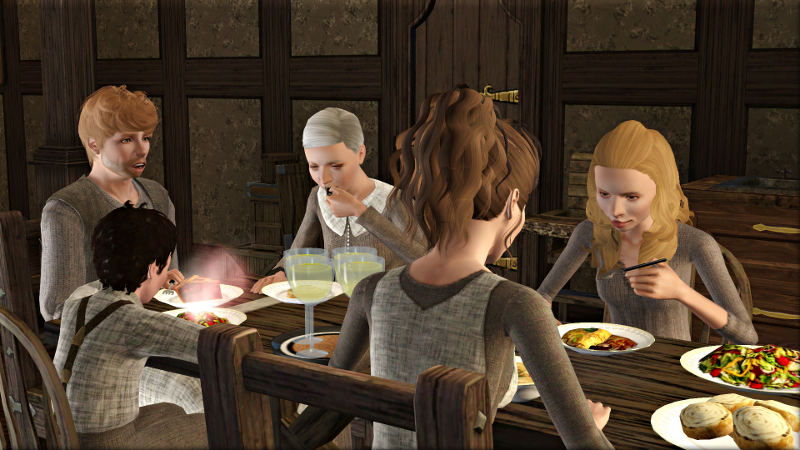 In the afternoon, their father steps out for a drink at the tavern. He has not been gone long when Richard, the brewer's eldest, comes over to tell Tephna that his brother has come down from Plumbob Hall and will be at home for the next few hours.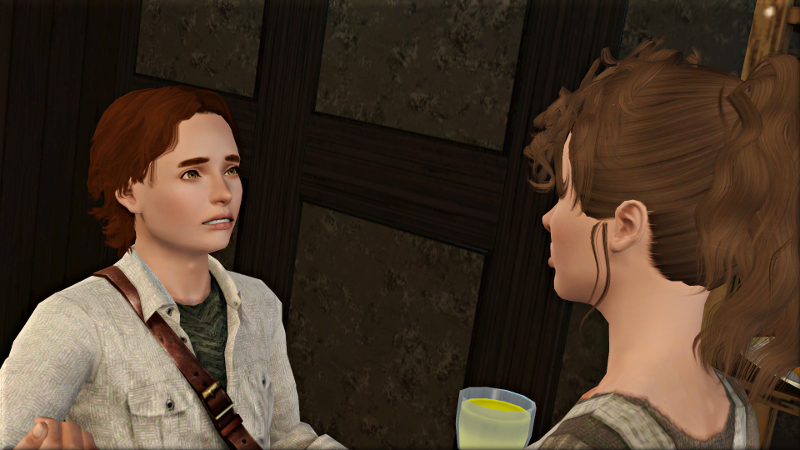 Richard winks sportively at Oriel.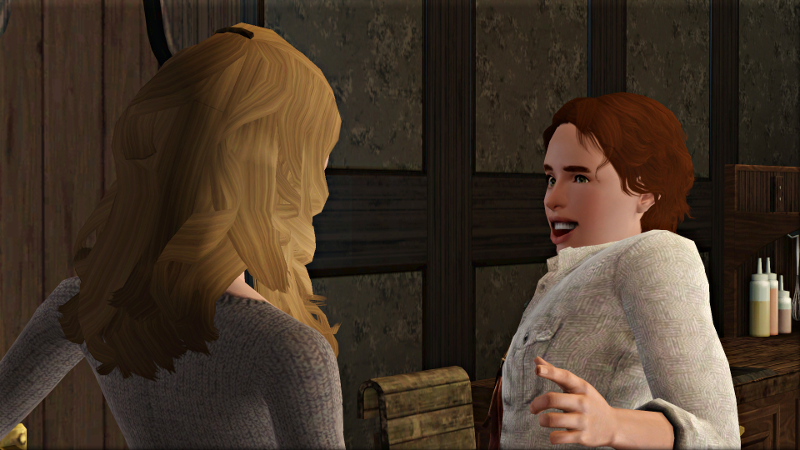 Tephna blushes as she tries to invent a reason to go over to the tavern. But her mother has overheard, and has realized that if Ralf is home then most of the village will probably turn out to see him. Not wanting to be left out, Avice decides that they should all go too.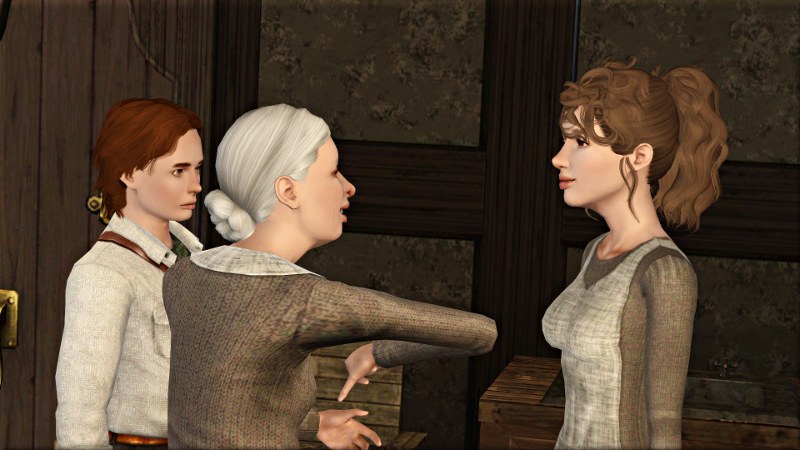 They leave Adam outside to play with Aphra and the horses.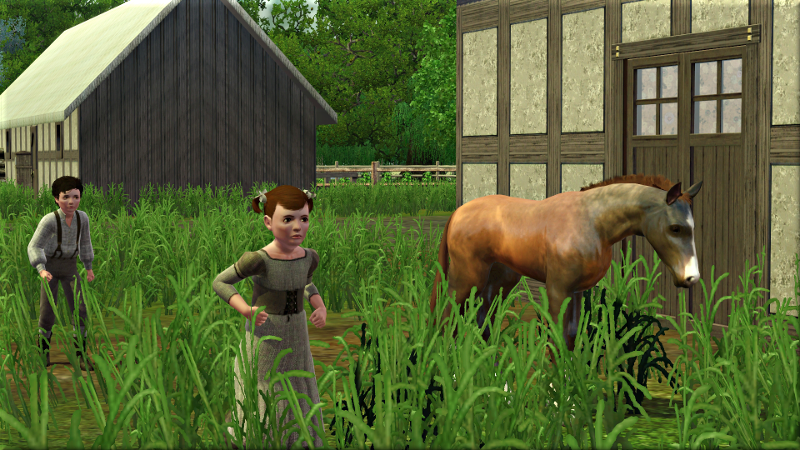 Inside, they find Ralf drinking with his friend John.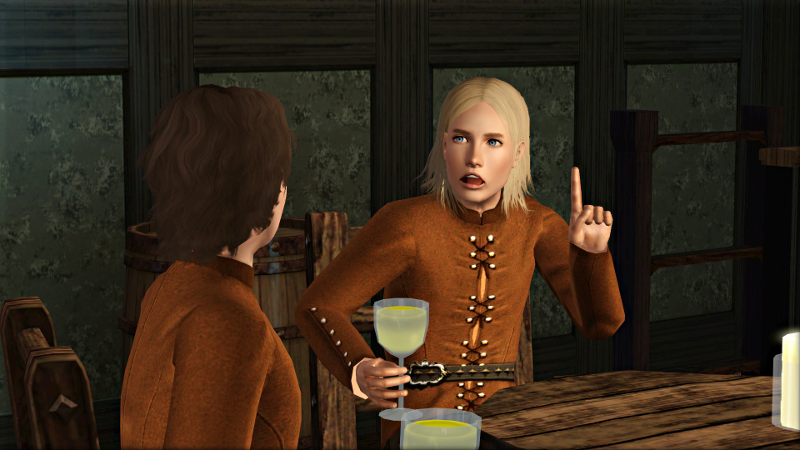 He rises when he sees Tephna.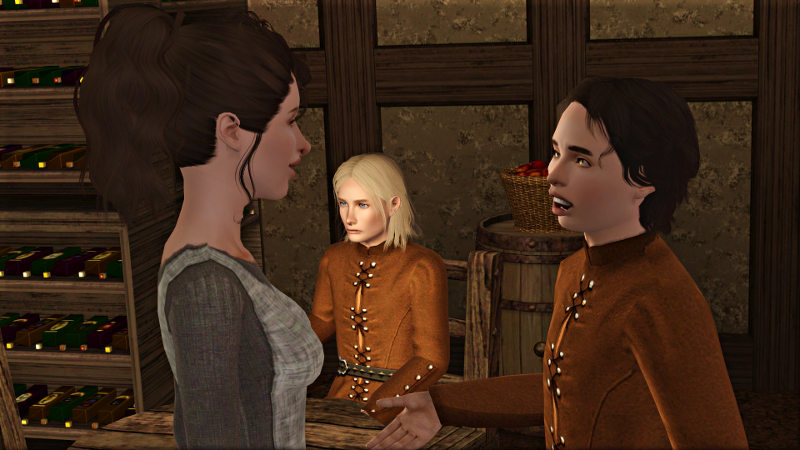 He tells her that it is quiet up at the great house. Most days there are only the marshal and chaplain at the high table, except for once a week, when Master Grancourt entertains a group of gentlemen. Of course the local poor must still be fed and unexpected visitors welcomed, but there is much less to do than usual. Until his lordship's return, all of the lower household has been given the afternoons off and placed on board wages.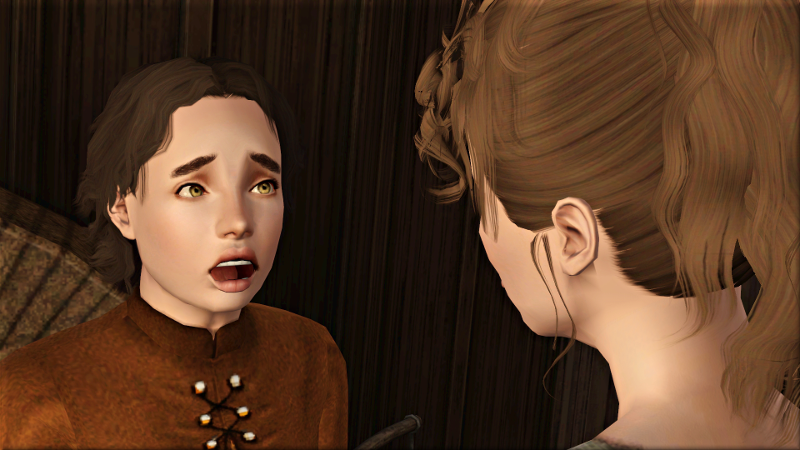 Ralf's mother is beaming with joy to have all her children around.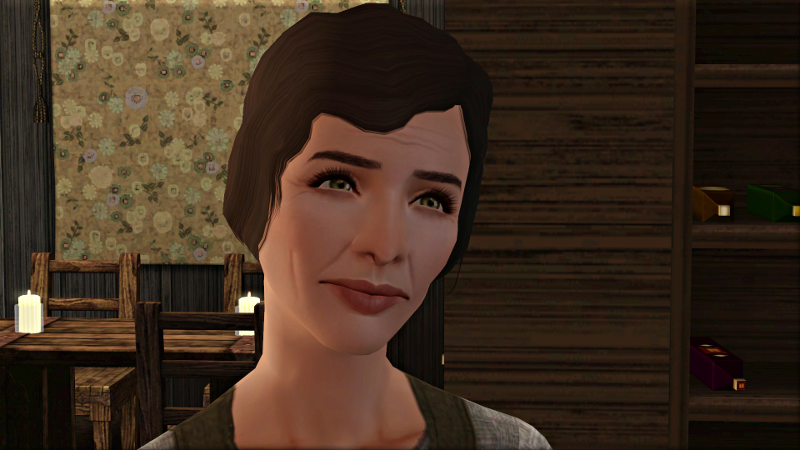 She fusses about her second son, bringing him plate after plate of food.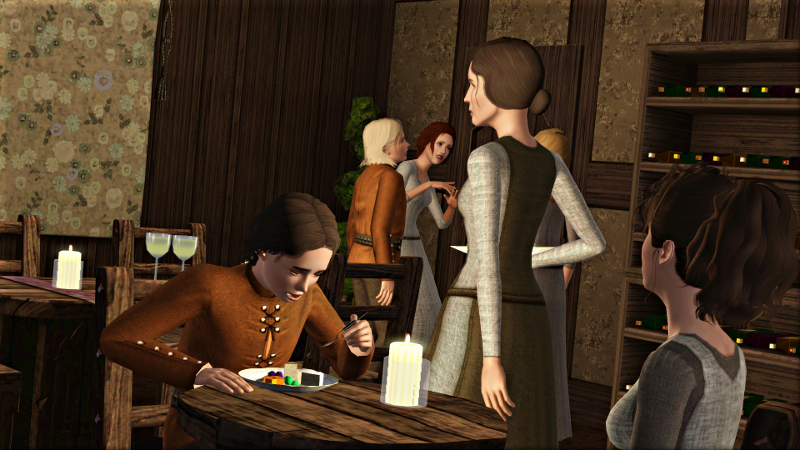 Ralf is fascinated to hear about what Tephna has been learning from Eda. He knows a little of it already, from when the chaplain comes to the kitchen, but nothing about what is best for expectant mothers. It is wonderful to talk with him again.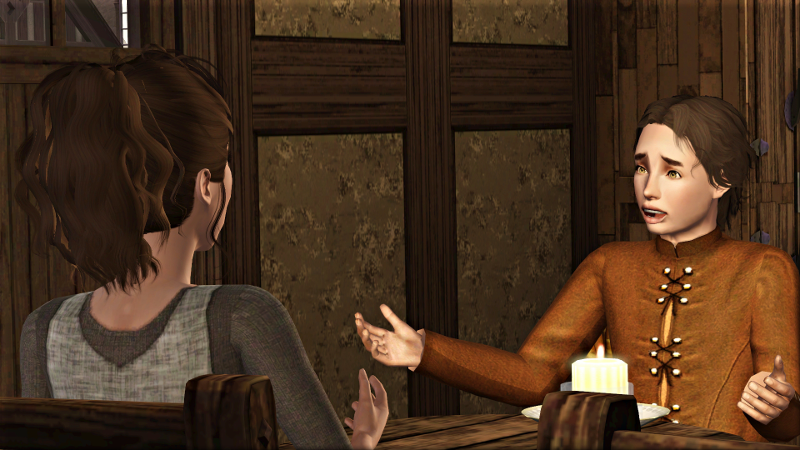 His friend takes a fancy to Oriel.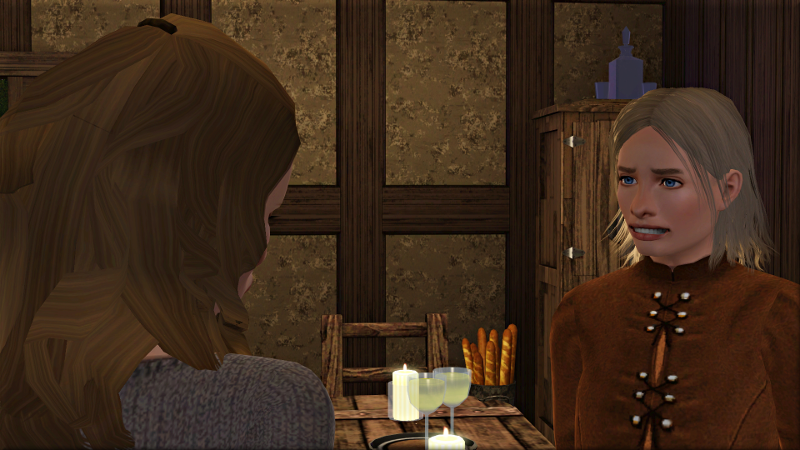 But she will have none of it.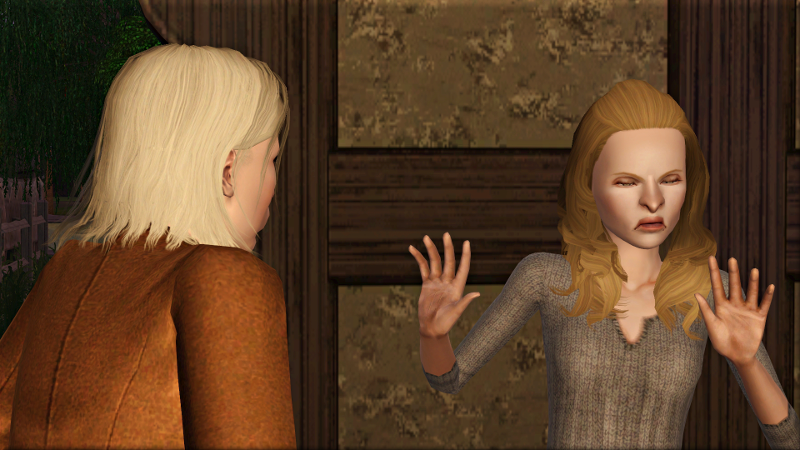 Oriel tells her later that the boy went about things all the wrong way: he should have recited verses in praise of her beauty, and fallen into a fit of misery when she refused him. That is how she has heard it is between noble knights and ladies. Tephna thinks her sister has some strange ideas about courtship.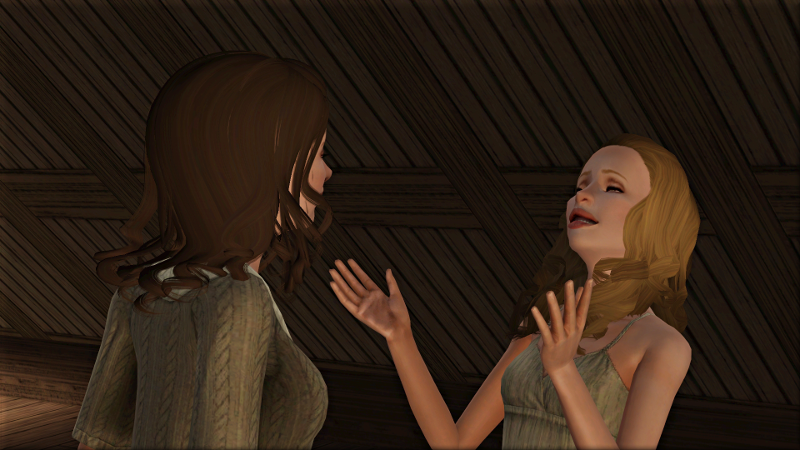 The holiday season continues over the next two days, but there are no great feasts at Plumbob Hall. No lords or bishops pass through the countryside on their way to visit one another; they are all already in Advorton with his majesty.
The effects are felt most by those who live on the outskirts of the village, men and women even poorer than the Fowlers: the younger sons of younger sons that could not get work in their family homes; landless travelers; bastards and their disgraced mothers; hired hands who lost their livings to injury or disease. They may still beg for bread from his lordship's pantry, but the great surplus from that once flowed down to them from his lordship's table is gone.
One night, one of them breaks into the bakery.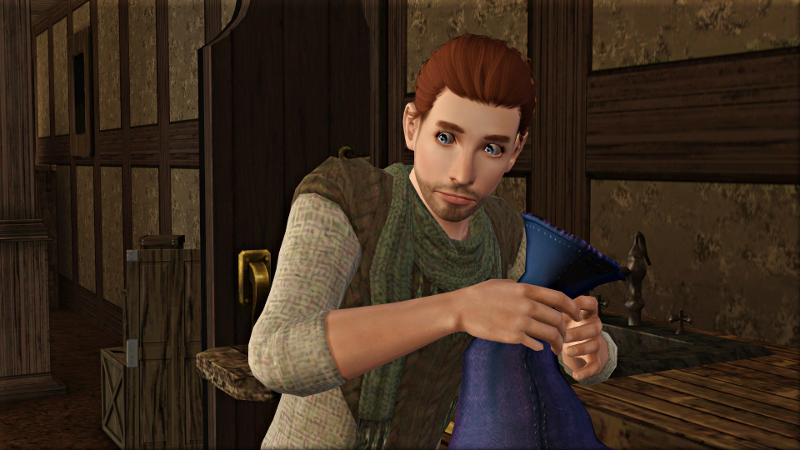 The girls wake to see their father accosting him. Their mother runs out in a panic when she sees him hurt.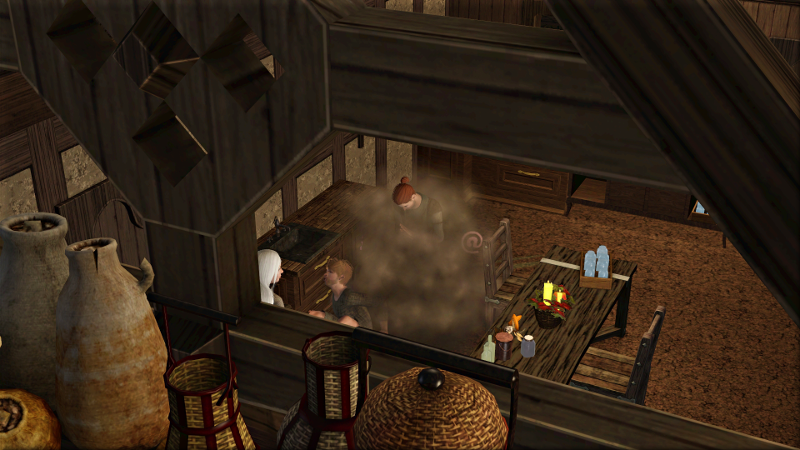 The thief escapes. He didn't take much really—only some jars of food—but he leaves their father wounded.
The wives hear all about it when they come by for their bread the next day.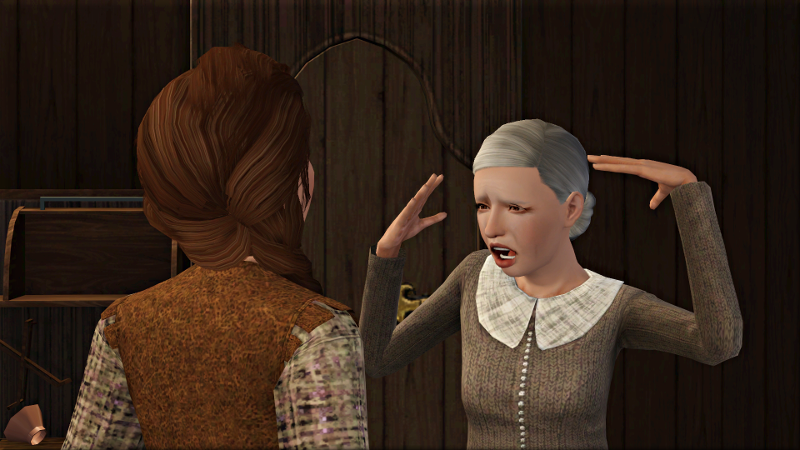 Henry Yates volunteers to go up to Plumbob Hall to tell Master Grancourt what passed.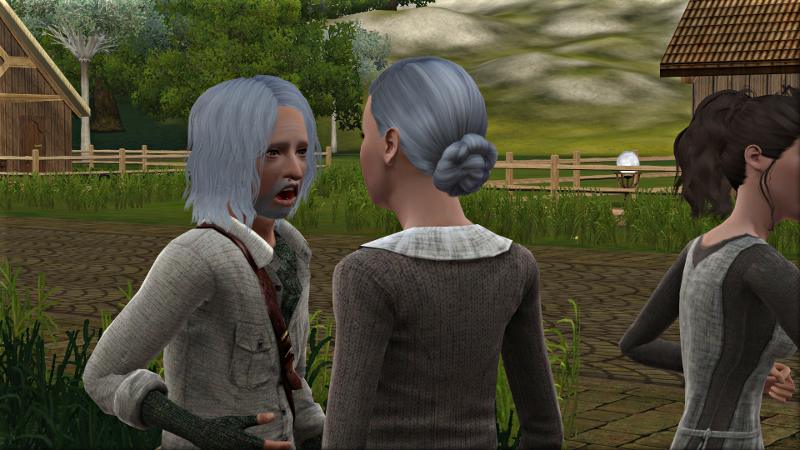 Geoffrey is bedridden by his injuries for a few days. Everyone does their best to make him comfortable.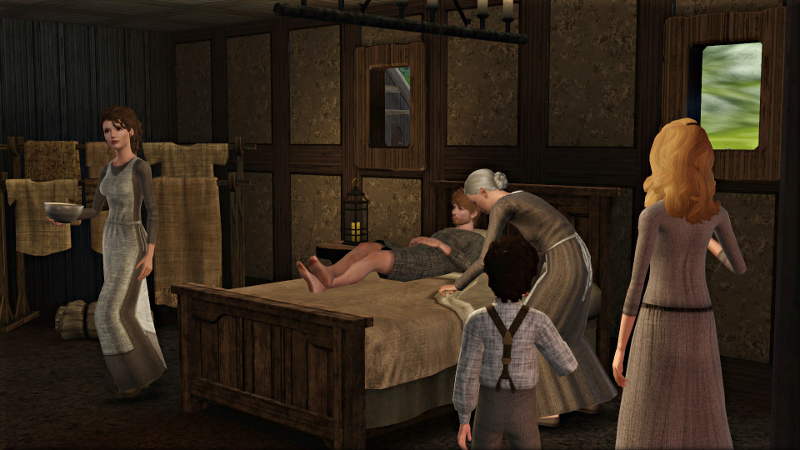 The parson in his sermons extols the virtue of forgiveness, but Tephna cannot find it in her. She is furious that someone would come into her home and hurt her father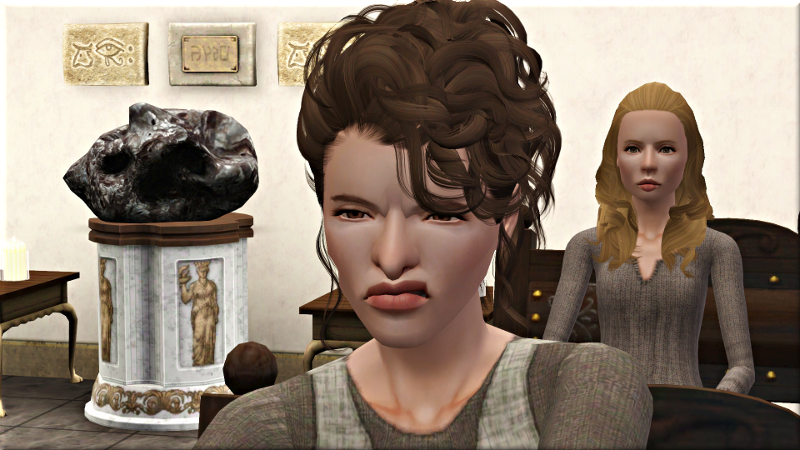 By Sunday, though, his wounds have almost healed and he is back on his feet again.a