The day her husband is expected home, Matilda Cecil has her attendants move her things downstairs. His father and stepmother will want the great chamber when they return.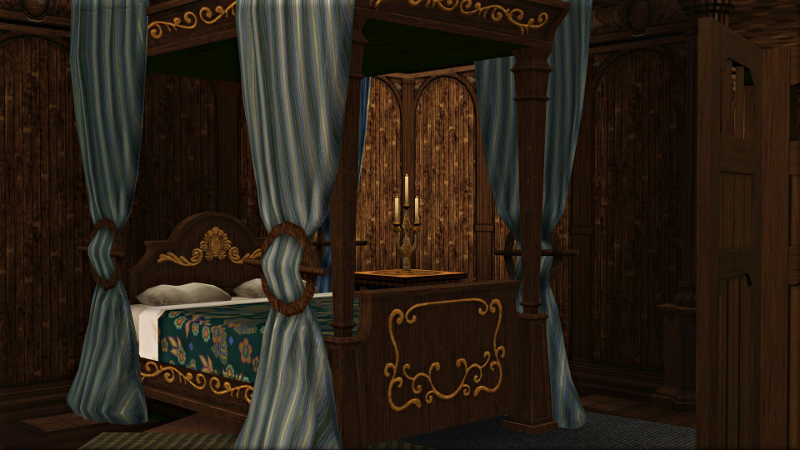 The bedstead was a wedding gift from her aunt and uncle; the sheets and hangings she brought with her from Effenmont. About the room she has candles set and tapestries hung, to make it feel bright and warm. She hopes that Roger will approve of how she has laid everything out. Marian tells her it all looks beautiful.
Matilda is on edge all day. She hardly knows her husband at all, only that their life together is about to begin. And once Lord Snordwich returns, it will not be long until Marian leaves her to marry Sir Vincent.
In the chapel, both women pray for the Watcher to grant them sons.
Matilda does not care for children, but has been taught to accept what is expected of her. Roger's little sisters Linyeve and Geva are at least quiet and well-behaved. She hopes hers will turn out like that too.
The girls seem to be as close as she and her own brother were. Jacquemon has been in Advorton with Lord Snordwich for the last six weeks. While he was away, the thought of his return always brought her strength whenever she felt unsure of herself. But now that it approaches she finds herself worrying that his time at court will have changed him, or that she will seem tedious and unrefined to him, next to the royal ladies he has seen there.
Lord Snordwich's wife will be with the party too, of course. Matilda was a little disappointed when she first heard of the marriage. She had hoped to be the only mistress of Plumbob Hall, but now this other lady will always have precedence over her, even when Roger takes his father's seat. She hopes she can at least learn from the new baroness, perhaps even more than her aunt could teach her. As she and Marian get ready for bed that evening, they try to guess what Lady Snordwich will be like.
They wake to news that Roger and Fabyan arrived late last night, and are now in the great hall with Master Grancourt.
When they are dressed, Matilda and Marian find them there. The men rise to greet them.
Her husband has grown into a handsome young man, with fine high cheekbones and striking green-blue eyes. But he as awkward as he was the day they wed, anxious and angry with the world, or with himself.
He and his brother clearly do not get along. Roger is short with Fabyan, and the younger boy can barely conceal his resentment.
He will need to get better at hiding how he feels, Matilda thinks. One day her husband will be lord of all Snordwich, and Fabyan shall have nothing but by his brother's good will.
Both seem apprehensive about their father's return. Fabyan asks Grancourt question after question about the exact time they are expected back, and the arrangements for the evening meal.
Throughout the morning, the local knights and gentry arrive at Plumbob Hall, ready to welcome their lord home.
Thomas and Marian seem happy to see their mothers.
Philip and Griselda Clerinell present their son Richard.
The weather is still fair that afternoon, so after lunch Matilda suggests they all play a game of gnubb.
It turns out to be a mistake. Roger flies into a temper when he hits himself in the head with the baton.
And Fabyan takes the sport far too seriously. Matilda notices him staring daggers at Sir Vincent, who easily wins the first round.