Ewfame Grancourt ambles about the house in her mourning dress. Just yesterday she laid her husband of nine years to rest.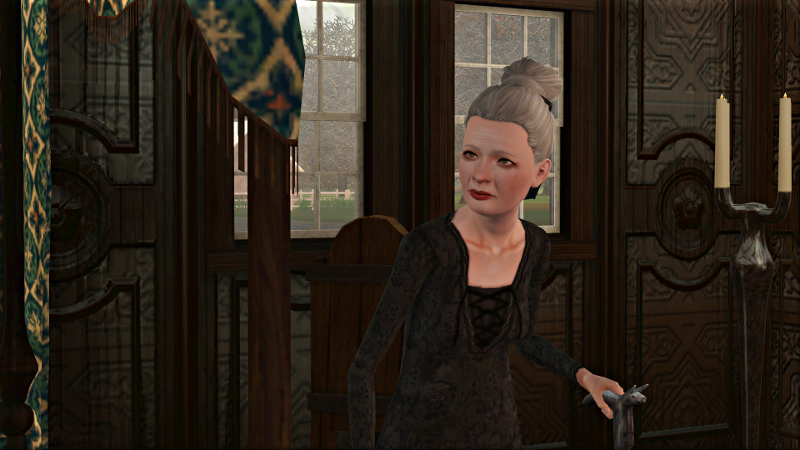 They were not close, Gilbert and she. They lived apart for half their marriage, and the other half she spent in fear of his disapproval. But without him she would not have had her name, her home, or her two beloved children. For those blessings she prays to the Watcher to show him grace.
Their son Thomas is master now. It makes Ewfame happy to see him, so much alike in looks her own dear father, at the centre of the table commanding everyone's love and respect. Thomas is given to the same black moods that Gilbert had, but is easier to lift out of them. He is always full of praise for everyone and everything.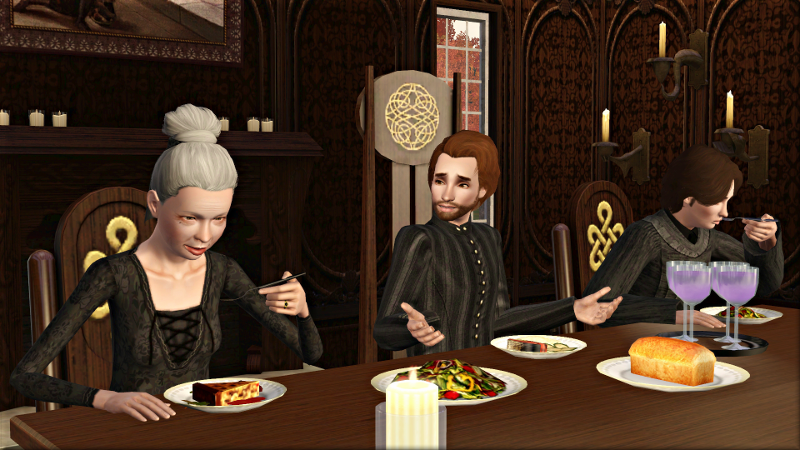 Throughout the harvest season, they put out suppers for his tenants.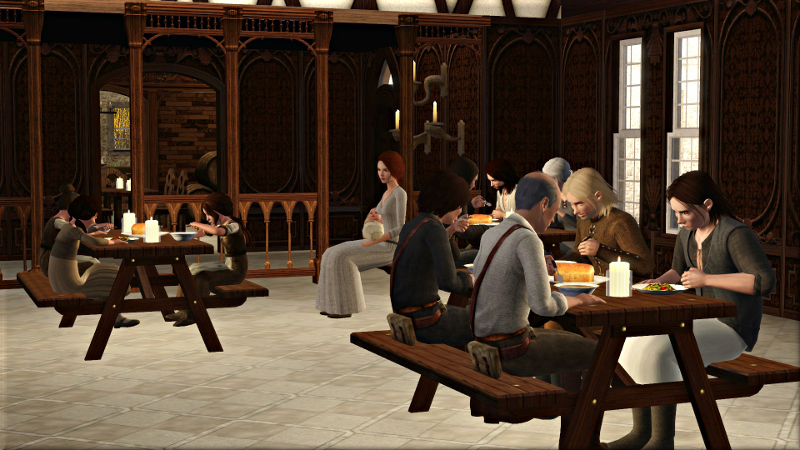 Thomas' old nurse Margery Becker sits with her husband, son, daughter-in-law, and little granddaughter Alys. Ewfame calls the women to bring the child for her to see.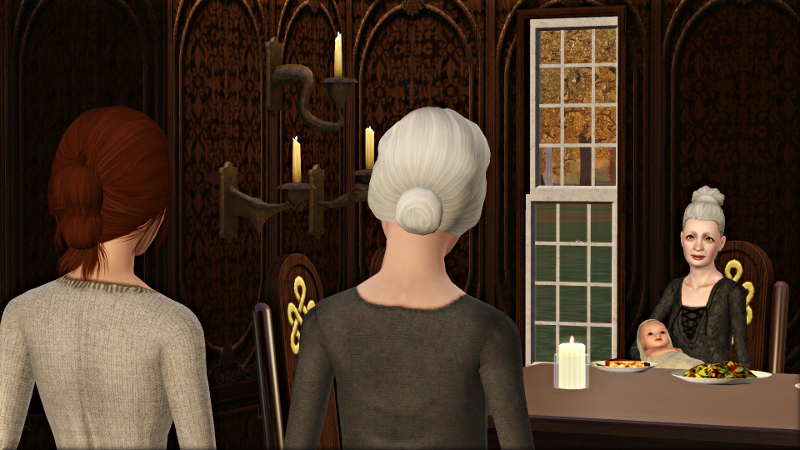 Holding the baby in her arms, she thinks of her own grandchildren. There are three of them now, two girls and a boy: Ivettta, Albreda, and Elias. Hilith bore them mere weeks apart; everyone was astonished by how quickly things went.
The latest came just two days ago, forcing Hilith to miss her father's funeral. But she and her husband have promised to come to visit for the Feast of the Angels this week, and to bring the children as soon after that as Elias is old enough for the journey.
Since Gilbert's passing, Ewfame has become more and more eager to leave some good behind her, when her own time comes. For the great affection she has for Old Wife Becker, she asks Thomas to set aside a bag of silver for little Alys, for her to claim whenever she needs it.
Alys' mother is overwhelmed with gratitude.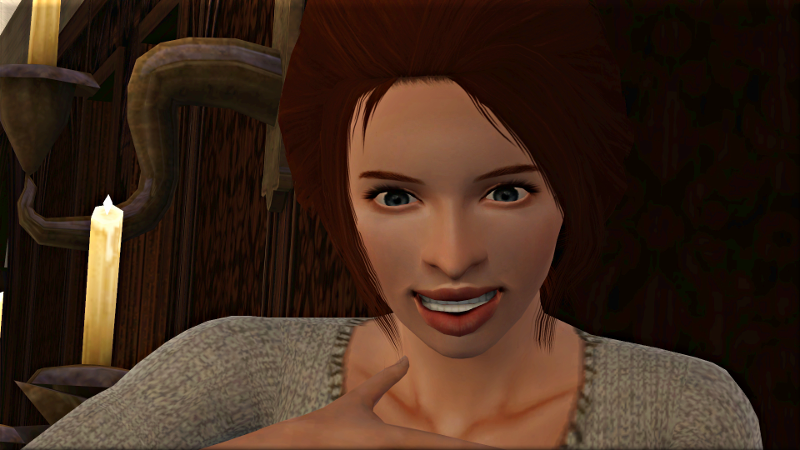 There is less that Ewfame can do for her own grandchildren. Their father's father rules over a fertile tract of land, and her meager widow's portion would mean little in amongst all that wealth. Still, there are certain books and jewels she wants them to have, for sentimental reasons. After lunch one day, she has the young parson write it all down.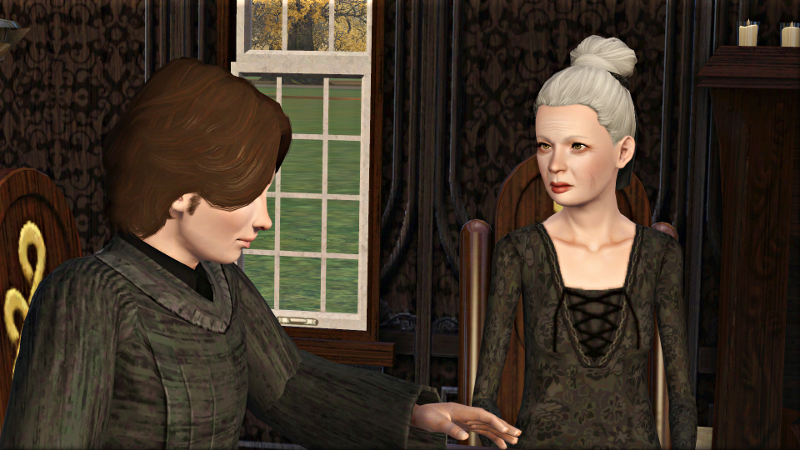 The rest of her goods she sets aside for alms for the poor upon her death—all save a blue topaz ring that was her mother-in-law's. That she intends for Margery Clerinell, her son's betrothed.
The wedding will not be until the coming spring, but she and Thomas visit Margery and her family often. Thankfully, Walstock Hall is close enough for them to ride at a pace that Ewfame can manage.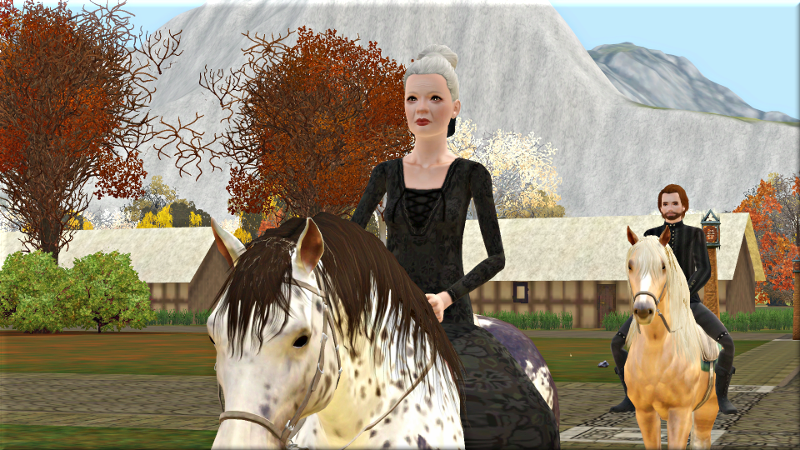 Only three of the Clerinell girls remain at home now, which Ewfame finds much less overwhelming.
Margery is a sweet girl, who loves to be outdoors in nature.
To Ewfame's relief, she and Thomas seem to get along well. Margery's sister Dominica often reads aloud to her, while the couple walk together in the autumn sun.
Dominica likes love stories best. Ewfame indulges her, letting her read tale after tale of knights and maidens in magical lands. Her own tastes were much the same when she was a girl.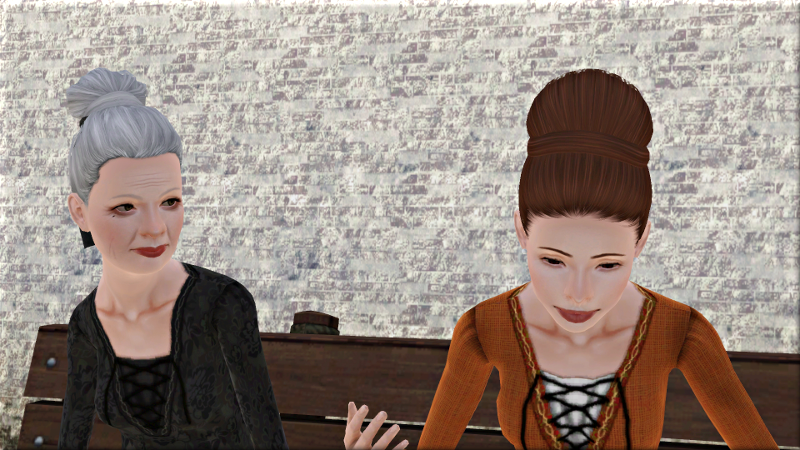 Sometimes, Thomas rides out hunting with Beatrice's husband John Postel.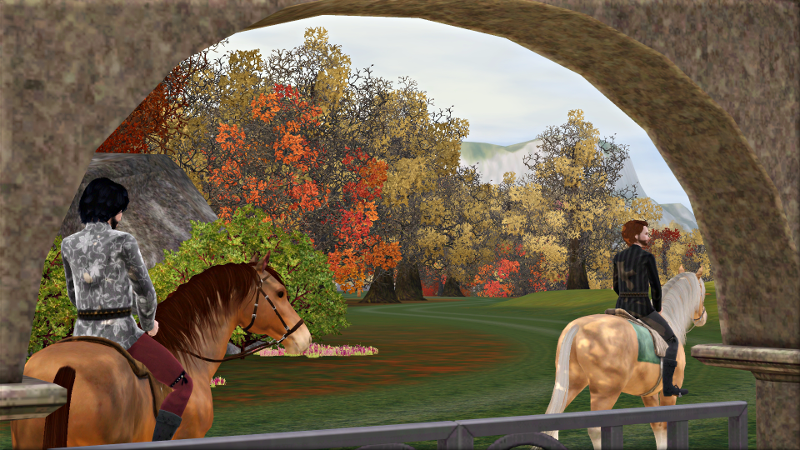 The two have been married not one week, and are already expecting their first child. Ewfame offers to stay with Beatrice throughout her confinement. The poor girl lost her own mother last year, and has no aunt or older sister nearby.
When Beatrice's time comes, her labour is long and difficult, but she emerges safely at the other side, with a fair-haired baby girl for her pains.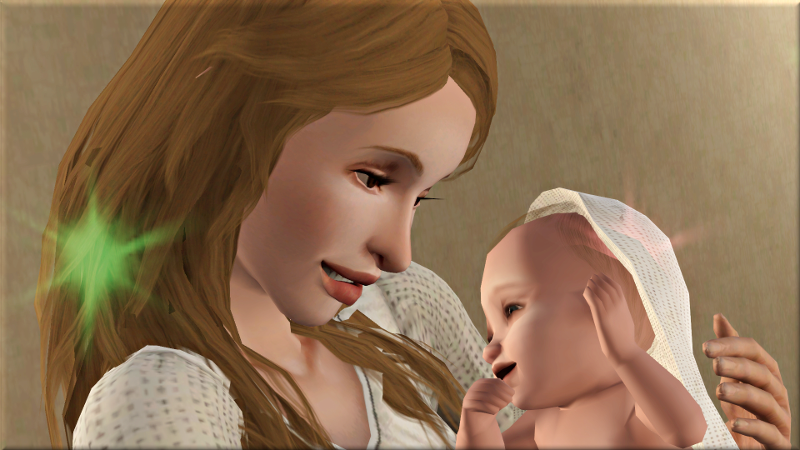 Ewfame cannot wait for Hilith to hear the happy news. Her daughter loves the Clerinell girls like sisters.
At last the Feast of the Angels comes, and Hilith and her husband arrive at Havlock Hall.
The servants have prepared a lunch of all the season's best—roast duck, poached pairs, rabbit pie, apple crumble—served with lashings of Renoit and Country Blend.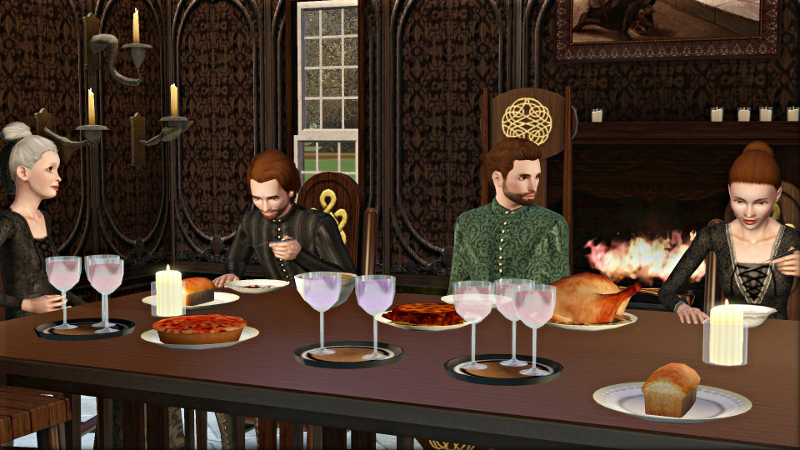 Ewfame is glad to see how much Thomas enjoys Sir Simon's company. She knows her son has been missing his friend John Ros from Plumbob Hall.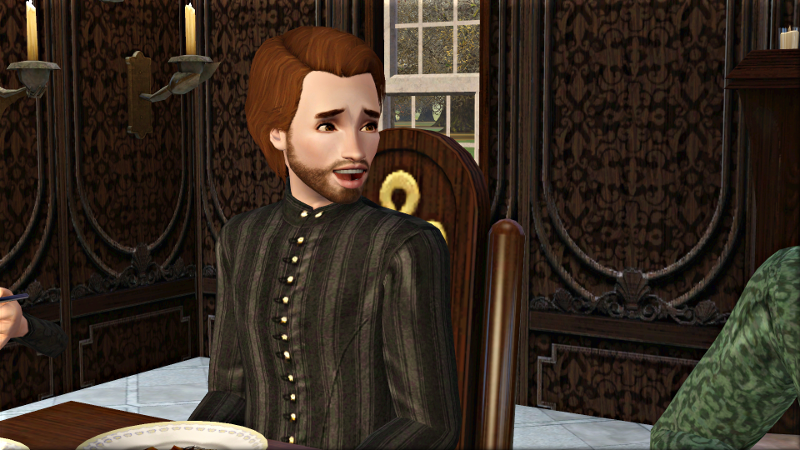 She and Hilith spend the afternoon walking by the river. Ewfame gets to hear all about her grandchildren.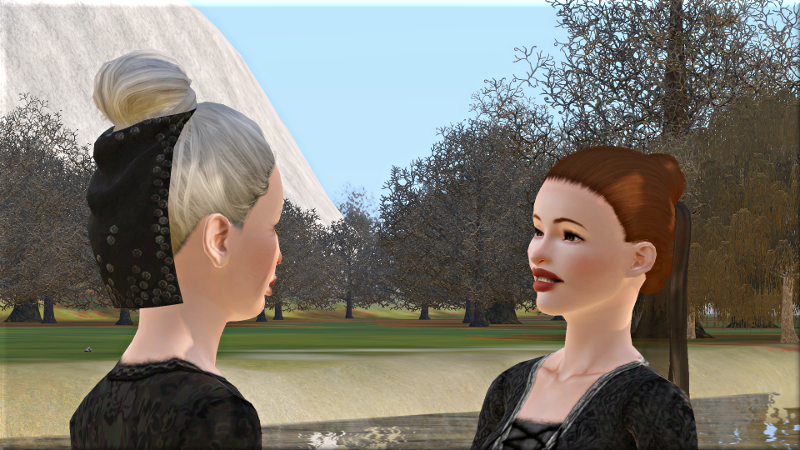 As they are sitting down to supper, grave tidings come from Walstock Hall. Just after Ewfame and Thomas left, the messenger reports, Mistress Postel was taken ill with fever. This morning, still weak from her childbed pains, she passed away.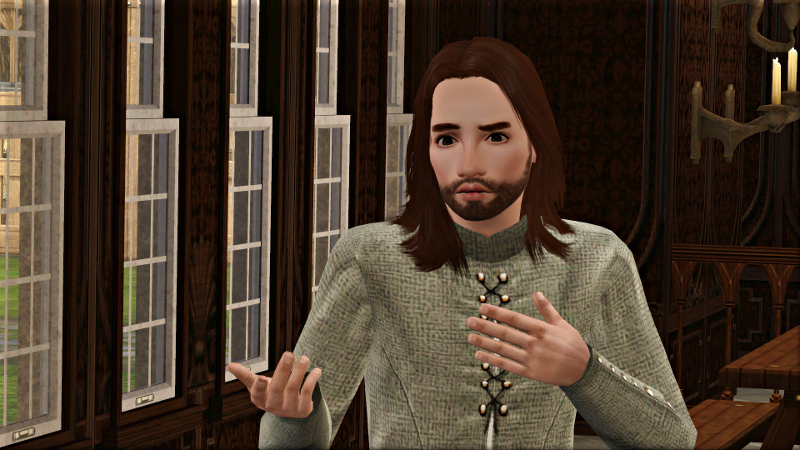 Thomas and Hilith are devastated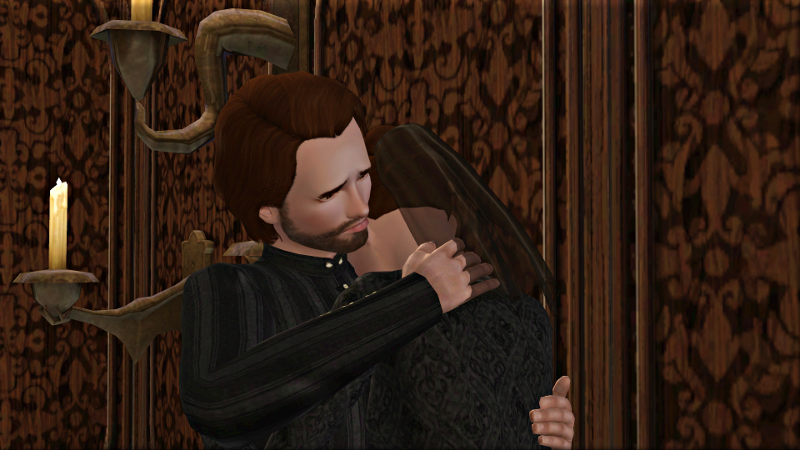 Ewfame is hit hard too. Her heart goes out to John Postel, and his tiny baby girl, and to all of Beatrice's siblings. The messenger has just come from seeing Master Richard at Plumbob Hall, and will immediately ride on to Alice and Felicia in Effenmont. And Thomas and Hilith must leave as soon as they can, Ewfame thinks, to bring what comfort they can to Dominica and Margery.
She tells them not to wait for her. It is still early evening; if they set out right away, they can be with the Clerinells before dark.
Sir Simon agrees: his wife and her brother should depart at once. It would be his honour, he says, to escort their mother at a slower pace the following day.