Next, Jia moved on to the insect collections.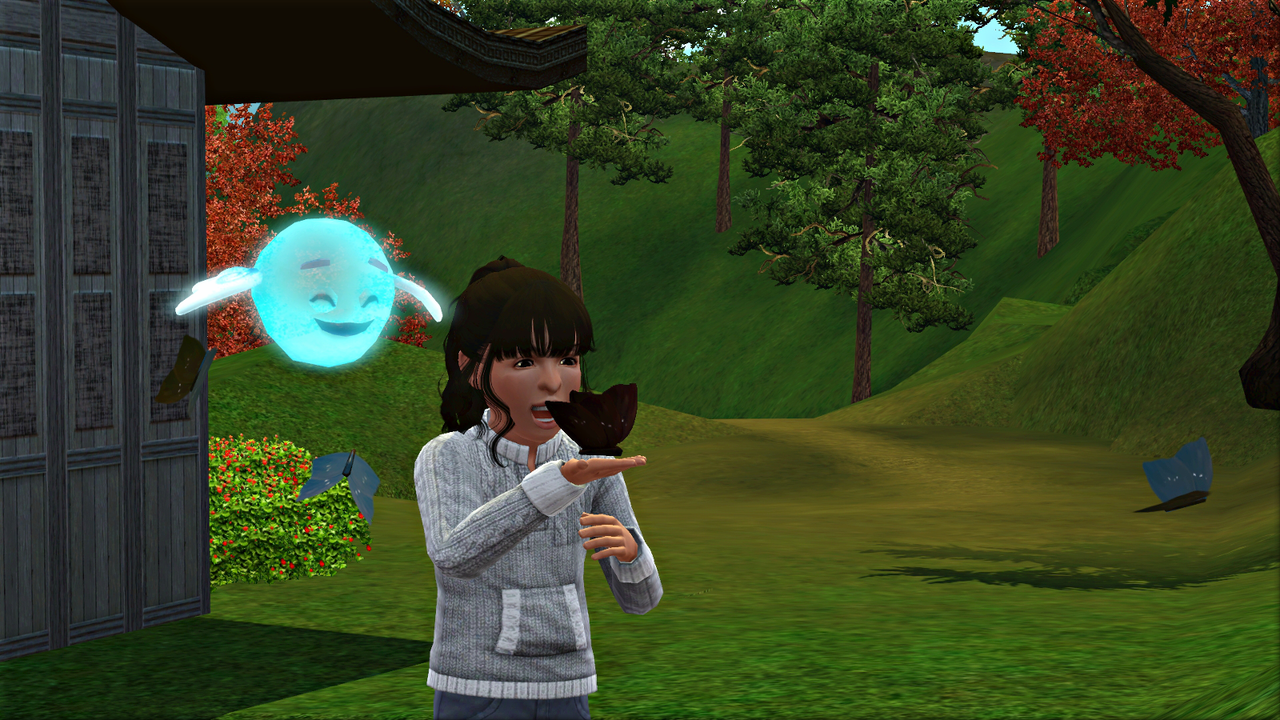 She found several water beetles, a rare red assassin bug, a couple of rare yellow band dart butterflies, and a bamboo straight swift butterfly. That seemed to be all the breeds available in Shang Simala. I think the spawners are quite limited here. We may have to travel around a bit for more variety.
She did, however, find plenty of different birds. I might have her keep one of these as a pet, although a reptile or rodent could be nice too. What do you think?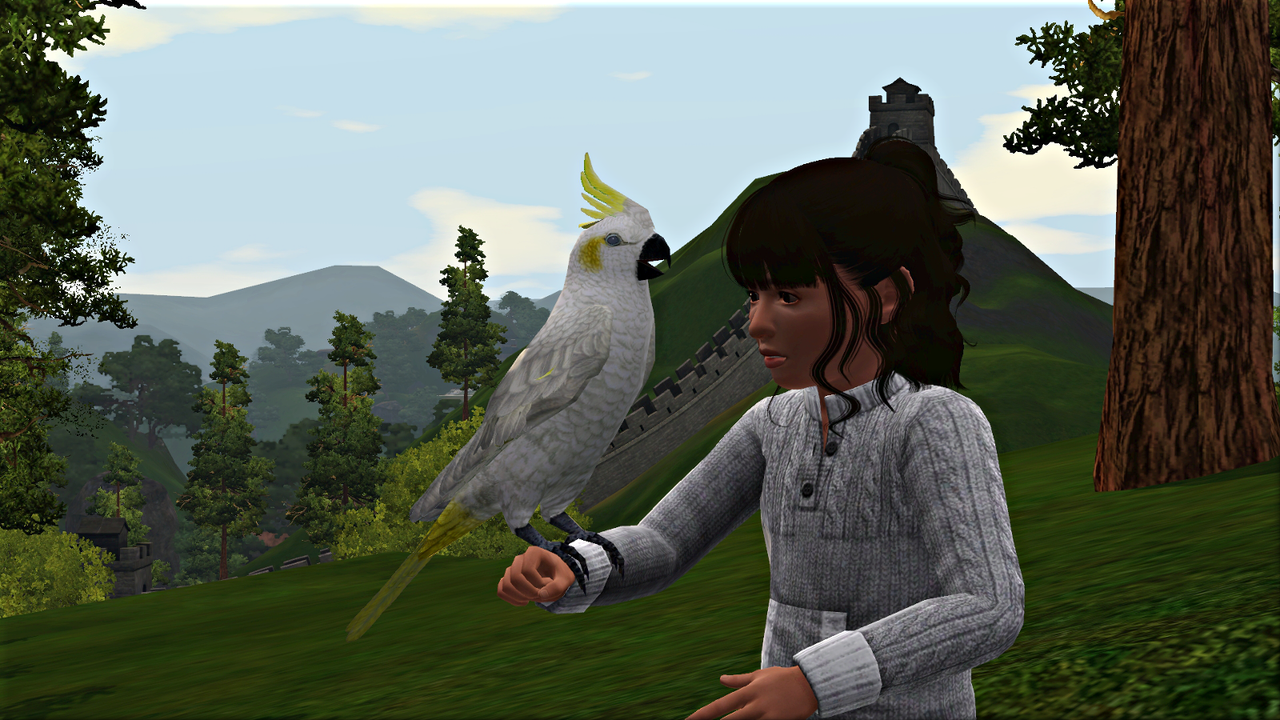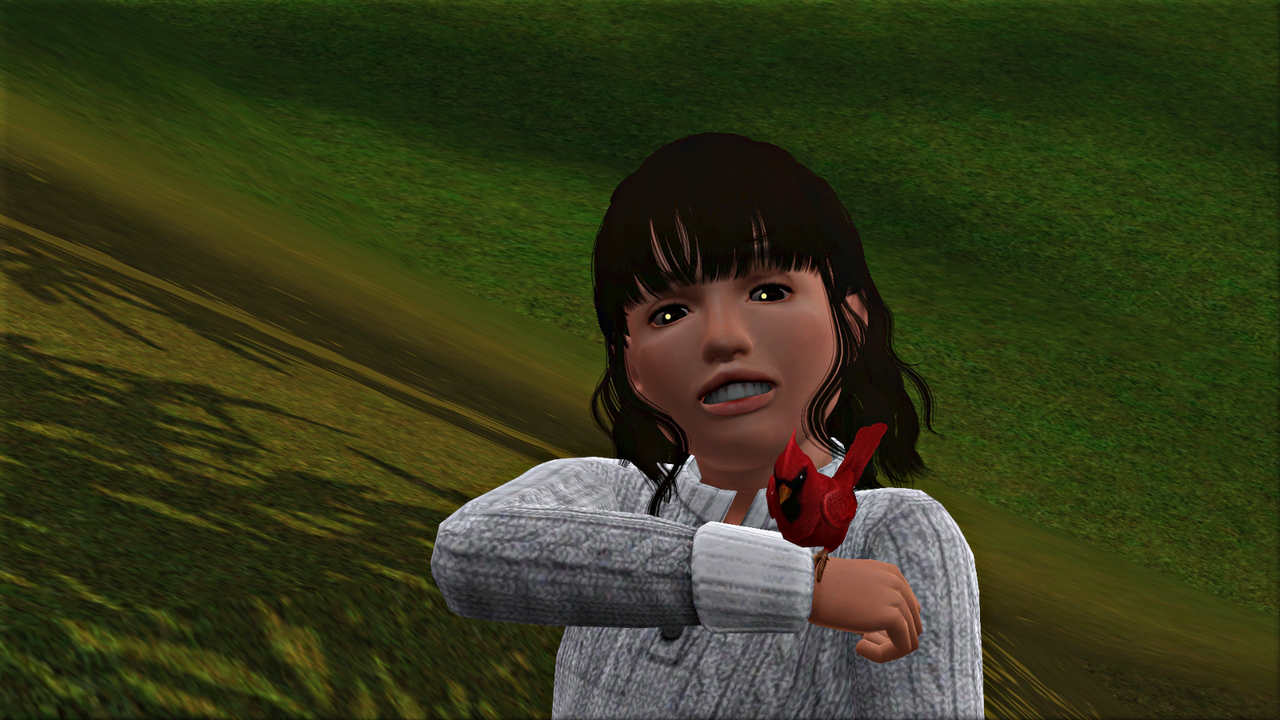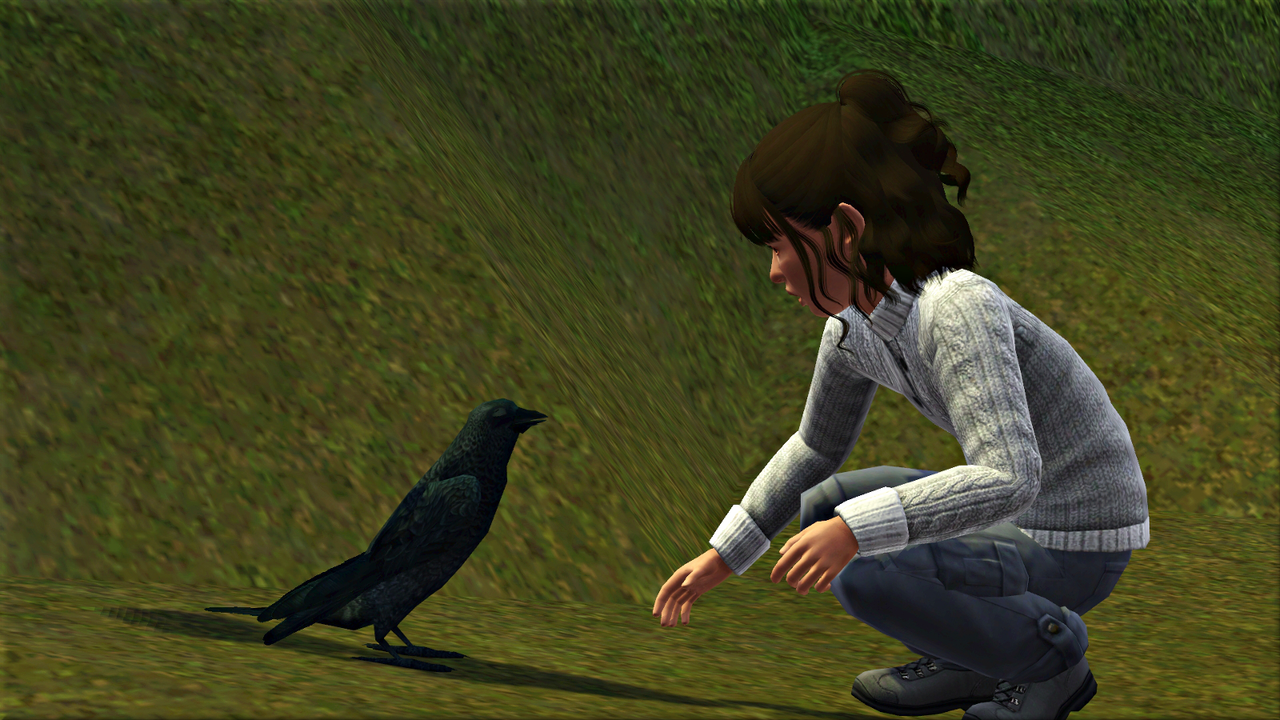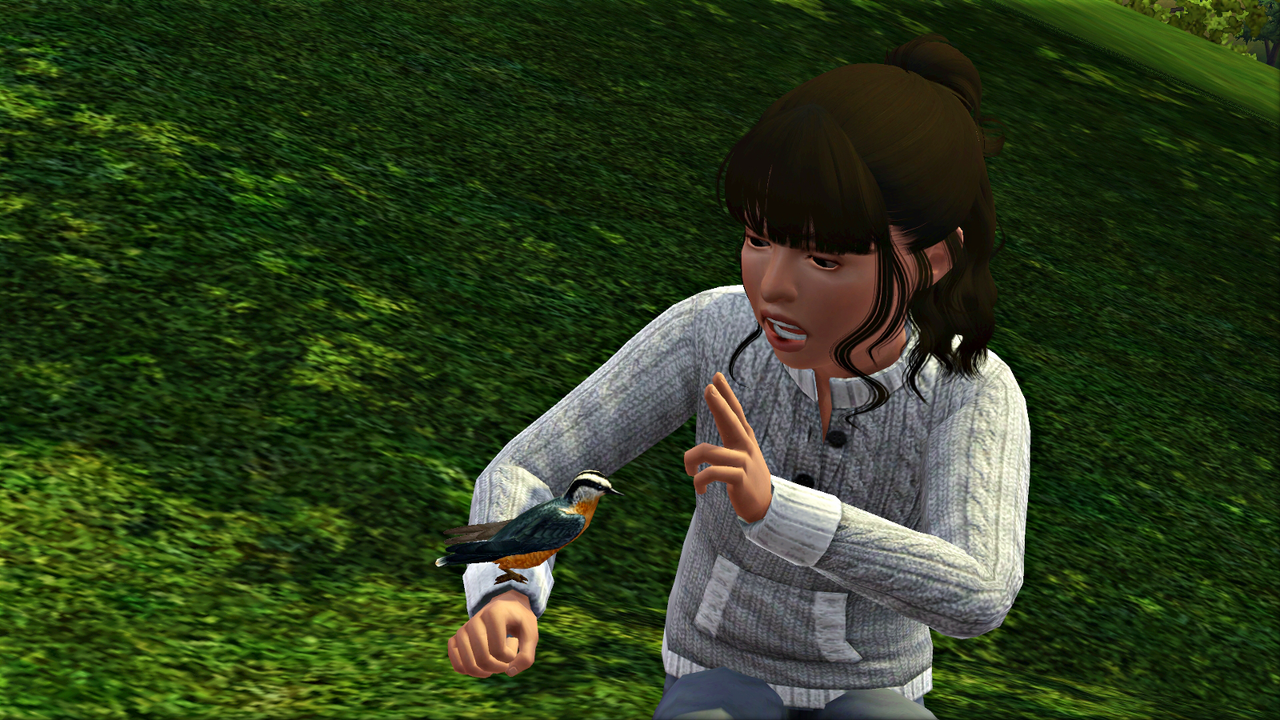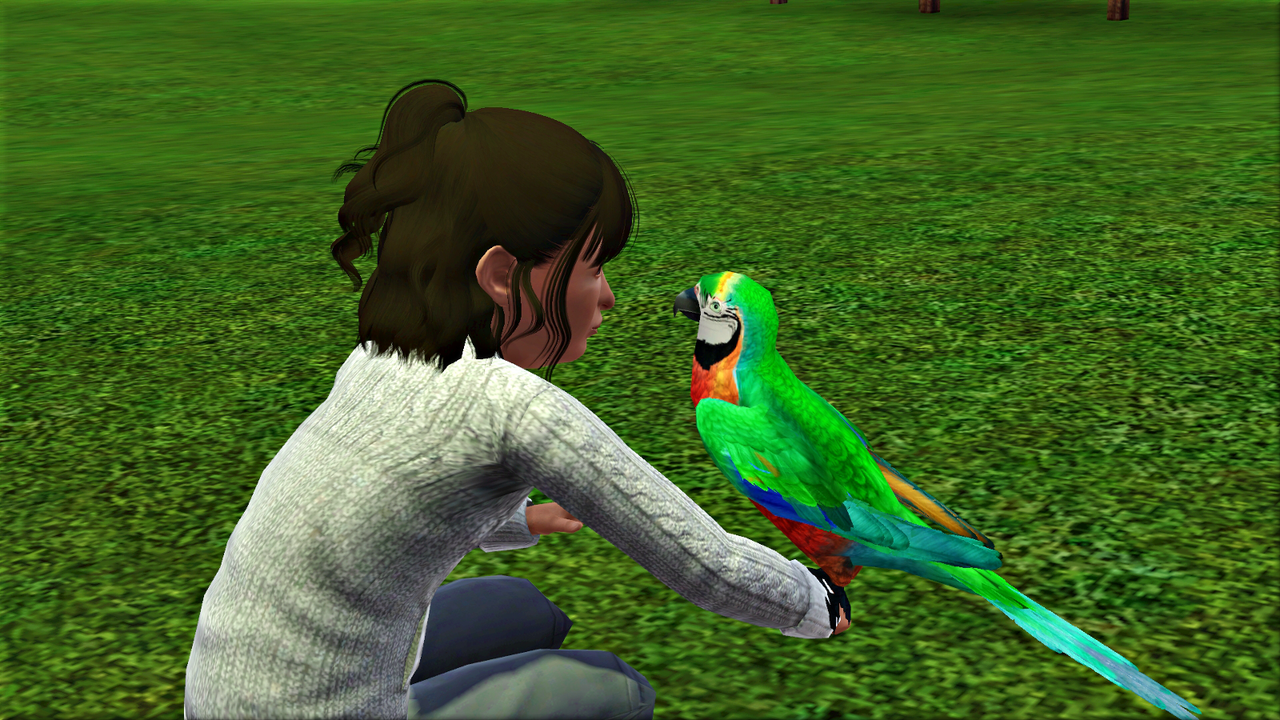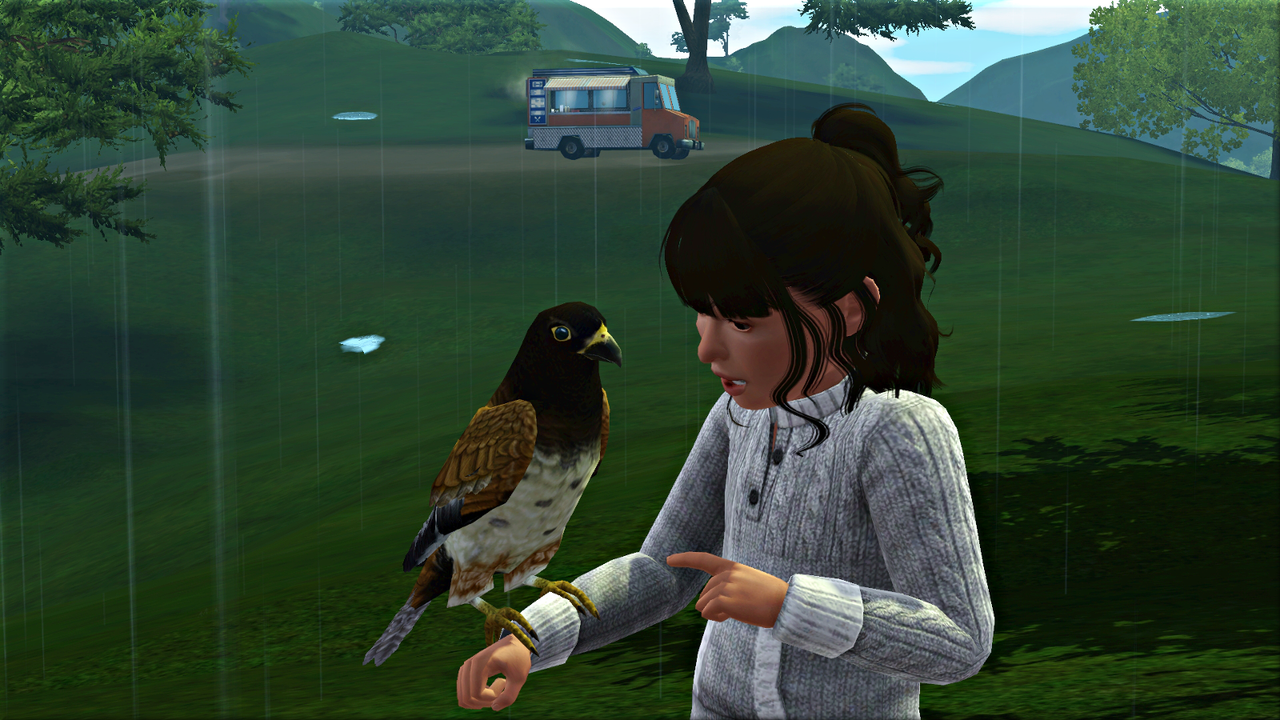 As she hovered about on her Windcarver, she continued to level up her advanced technology skill. She unlocked more recipes to program into the food synthesizer later, and also the Zigrid and Chromec sprite forms. (Don't mind Carter glowing in the background.)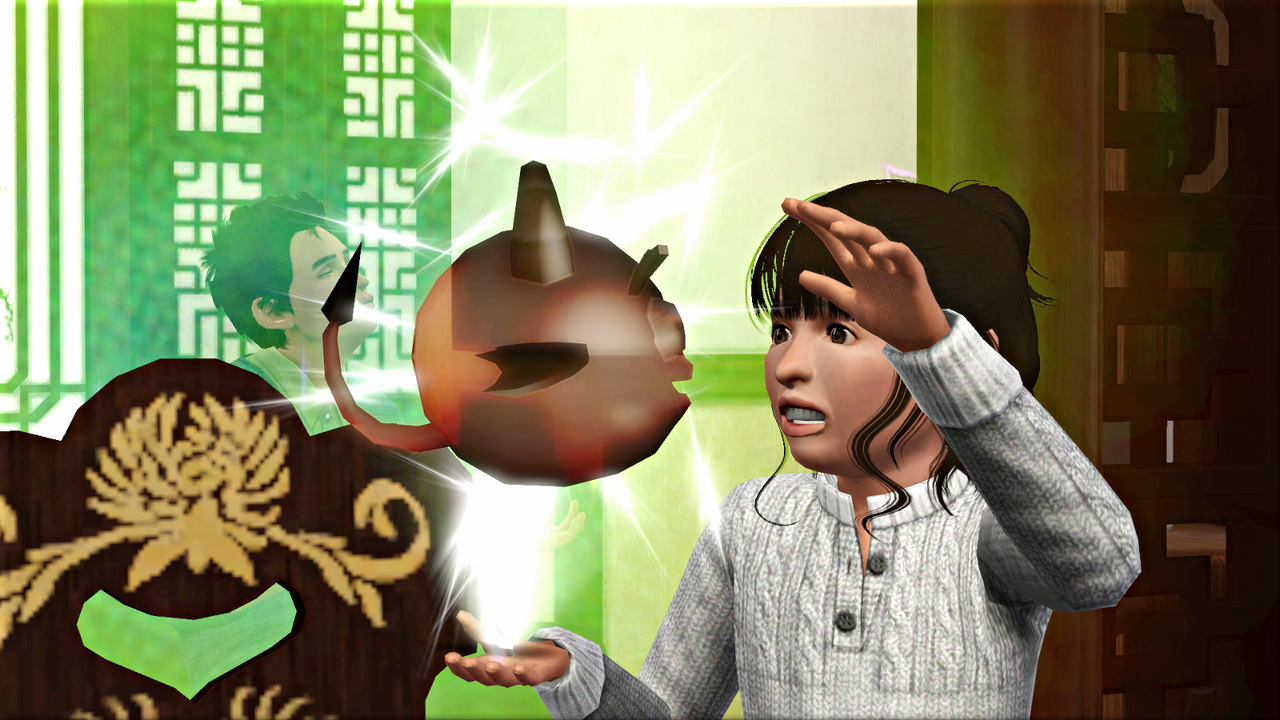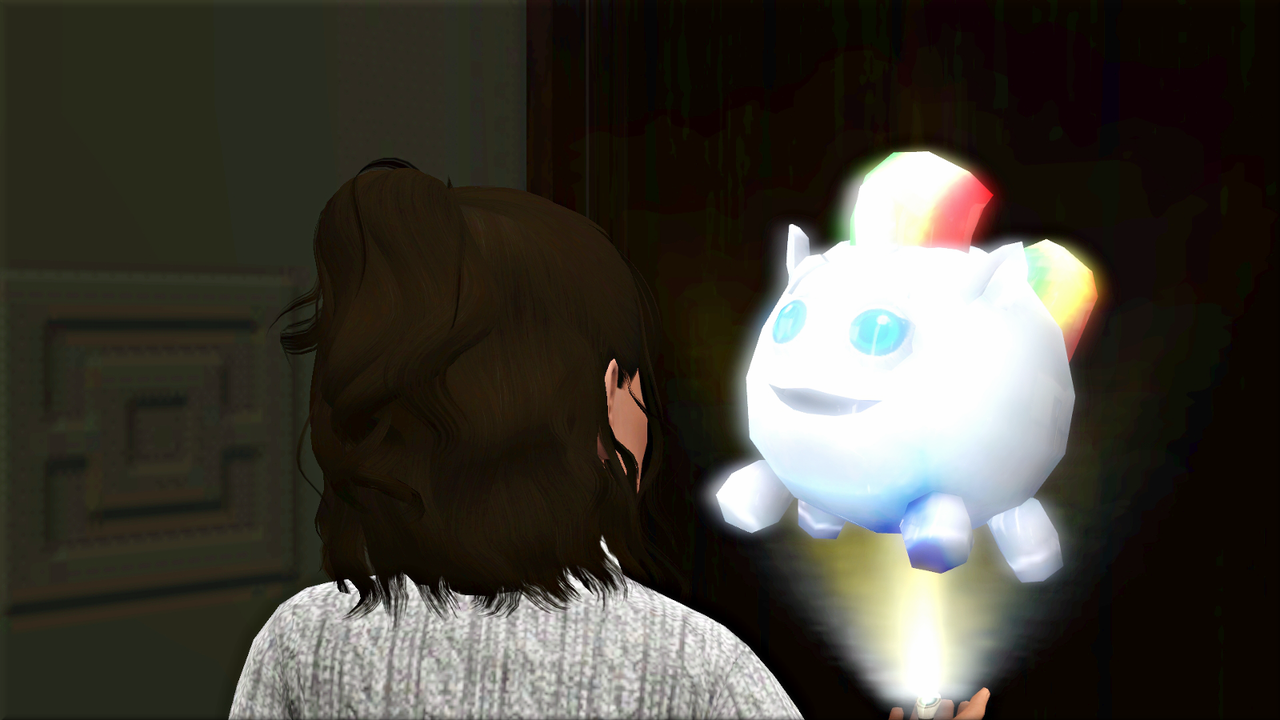 Metaso she was able to get from Carter's cousin Thomas.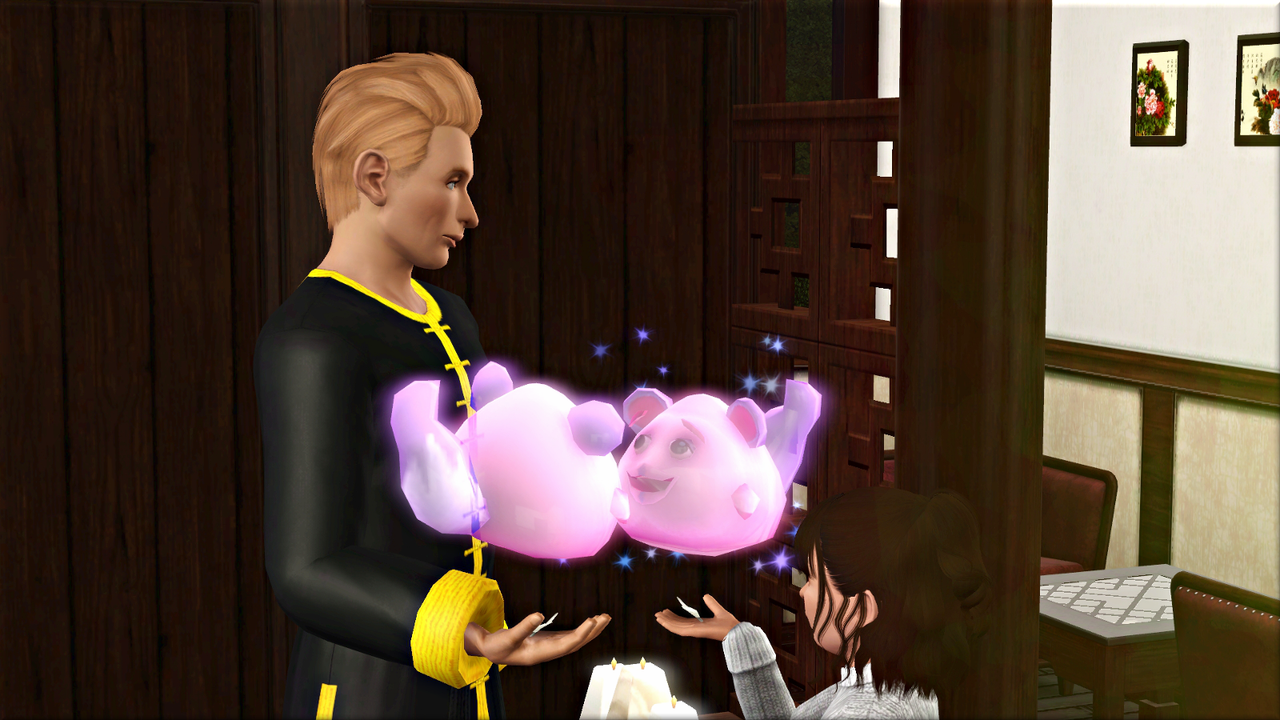 She's pretty nifty with the Windcaver too now. She does a little trick when she dismounts, but I wasn't able to get a picture of it.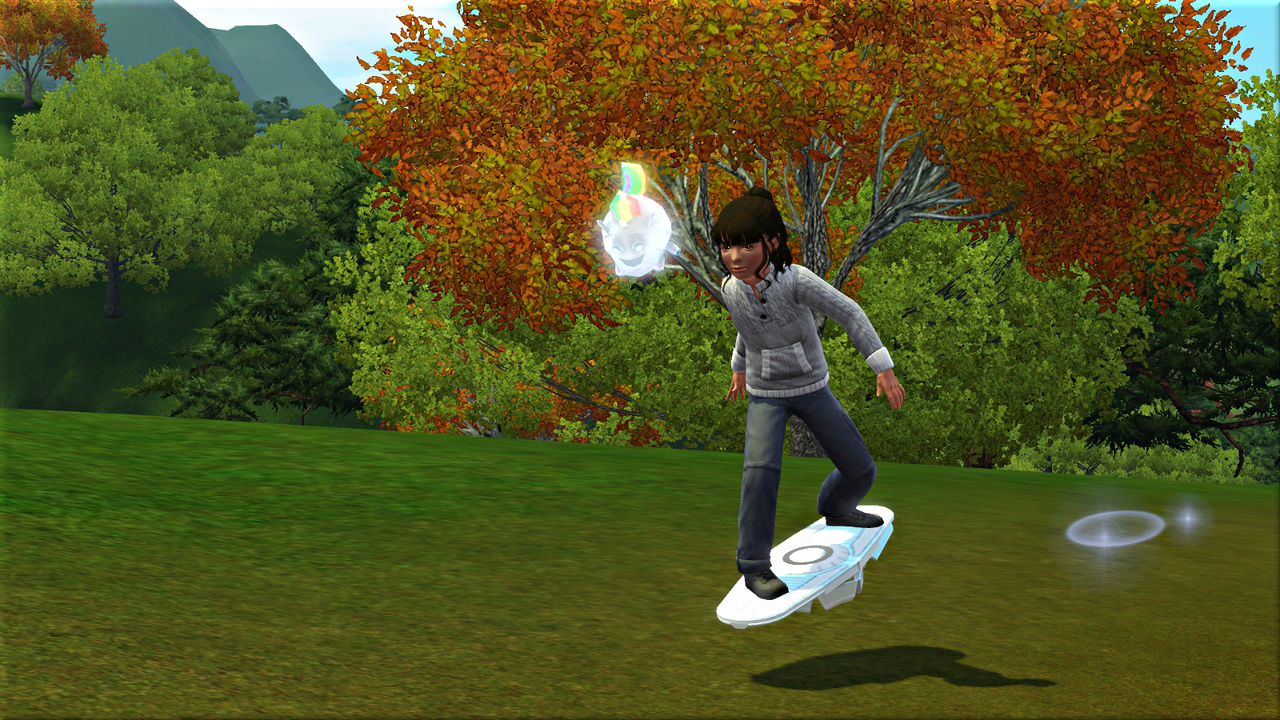 While Jia was gliding about town, Ho Sung and Carter both completed the Zenoport challenge, reducing the amount of focus they have to build up before zenoporting. Carter also participated in his 75th sparring match, earning him the title of Sim Fu King. He now wins almost every match he fights, which is useful for his career and for fulfilling all the 'win x number of ranked sparring matches' wishes he seems to roll.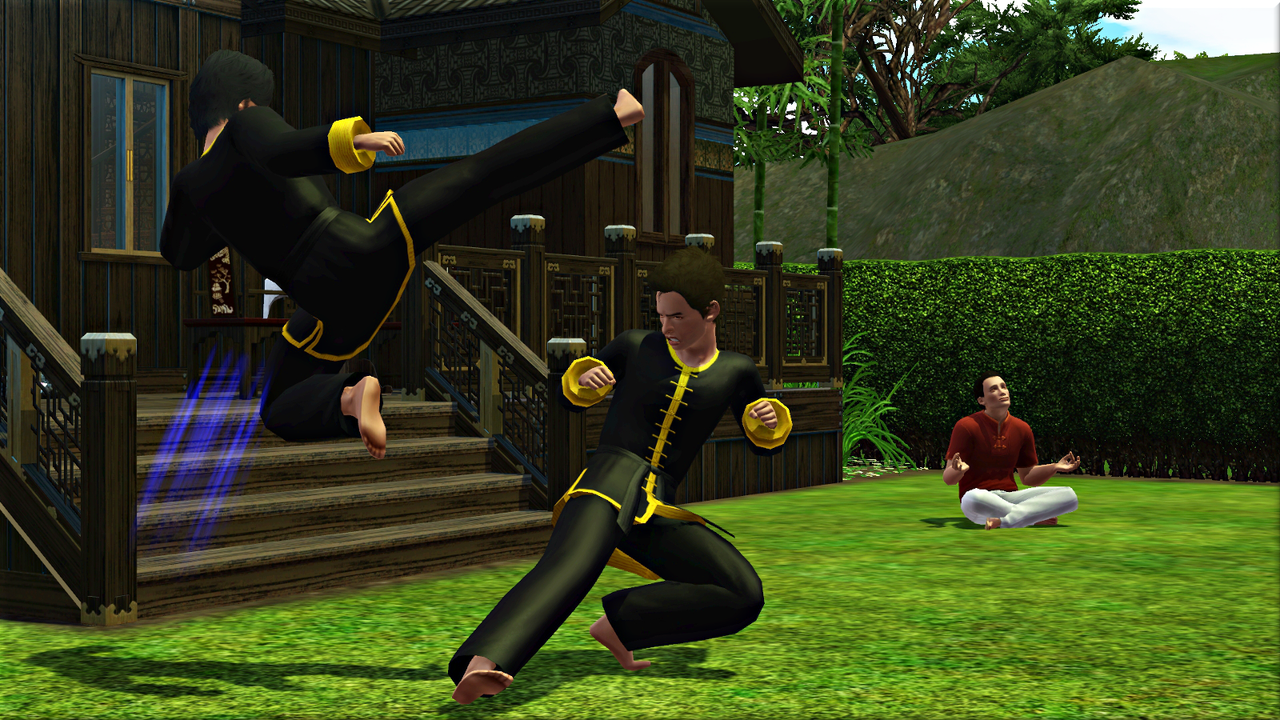 Between matches, they both continued to break open space rocks to reveal gems for Jia's collection, which now includes a hunk of tiberium.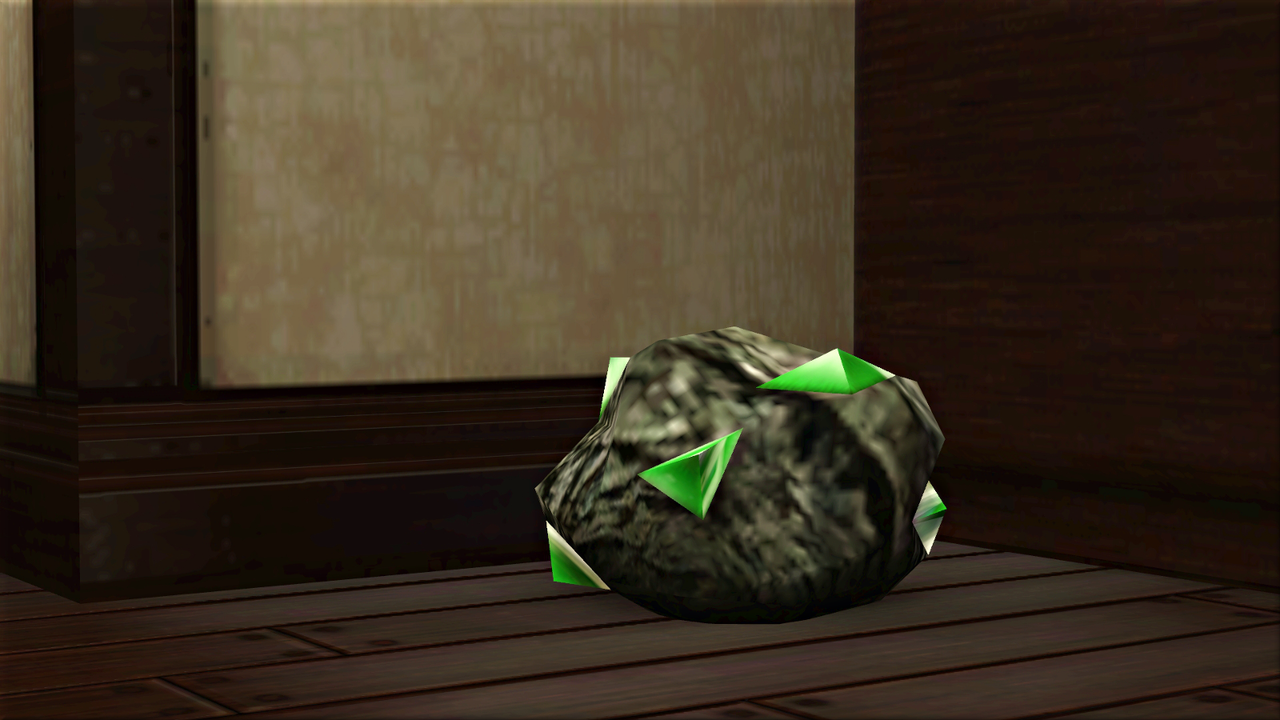 Ho Sung's niece Nuwa give birth to a baby girl called Jee Young. He and Carter went to visit.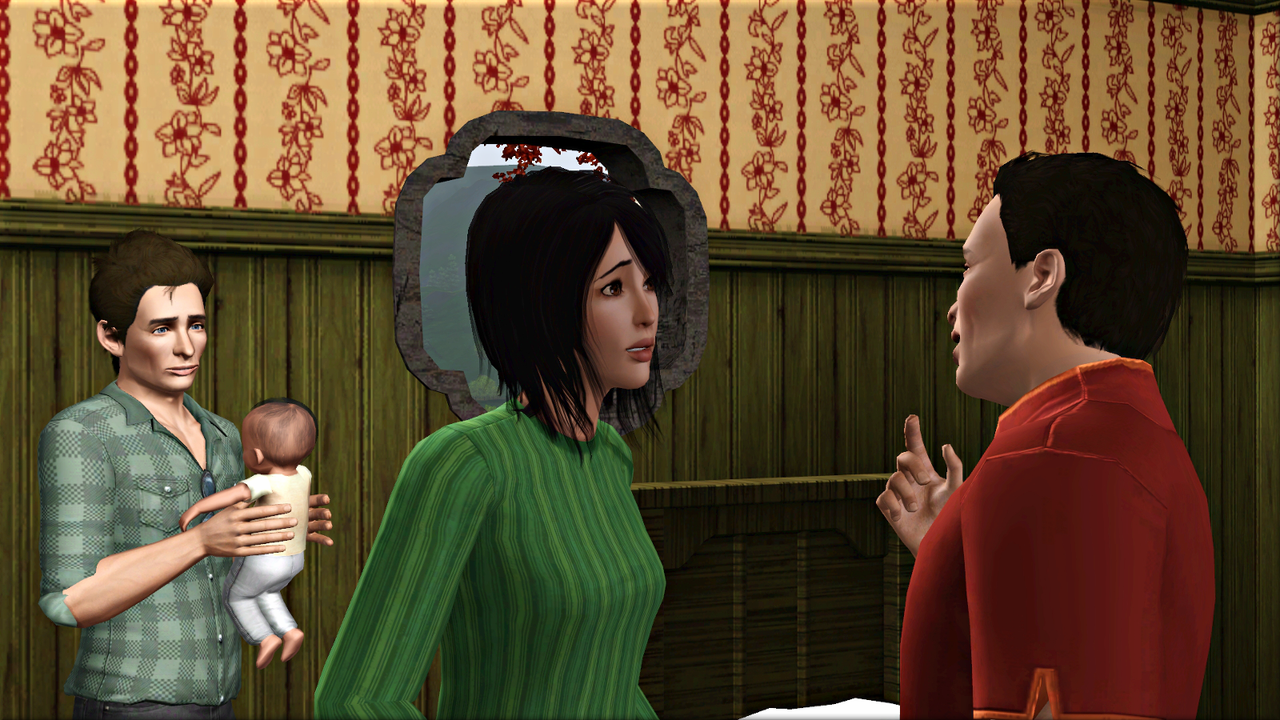 Jia invited her friend Jing out for dim sum at the hot springs. He brought along his cousin Huang Yuan–Lu.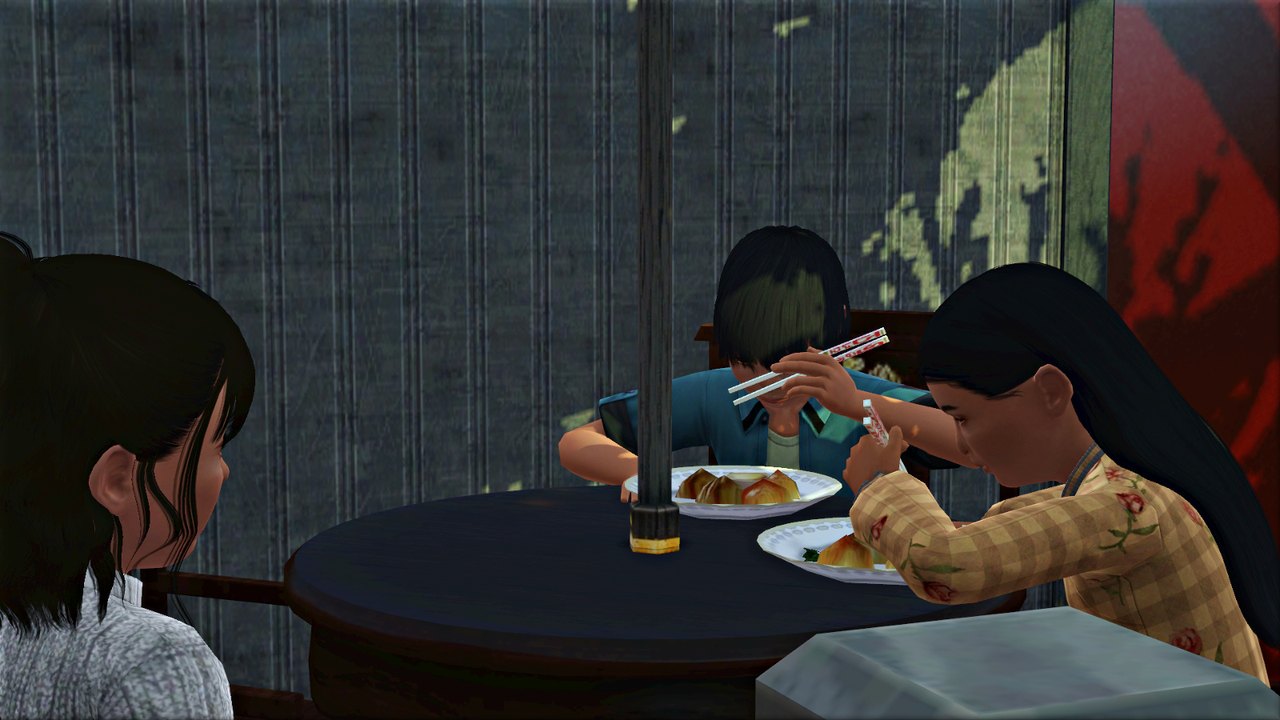 The girls played a game of tag together.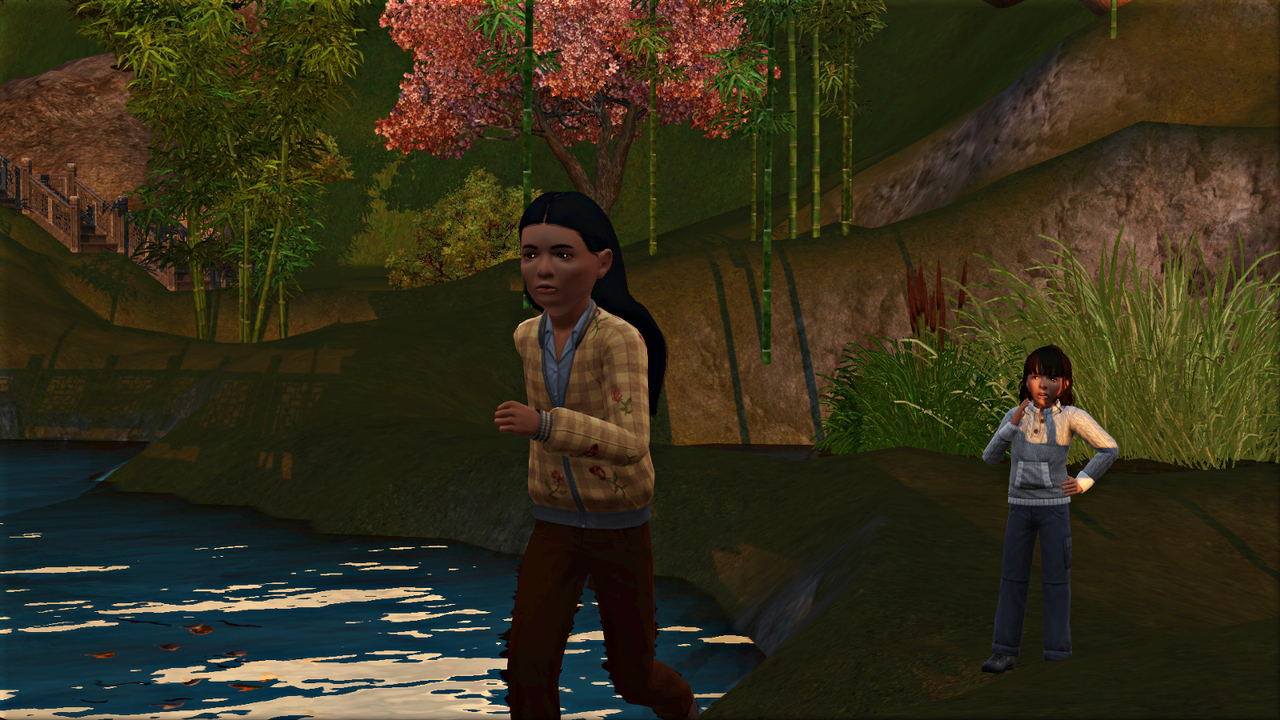 I hadn't invited Andrew because he'd already become a teenager. Soon it was Jia's turn to age up. As usual, I invited all the teenagers in town to the party.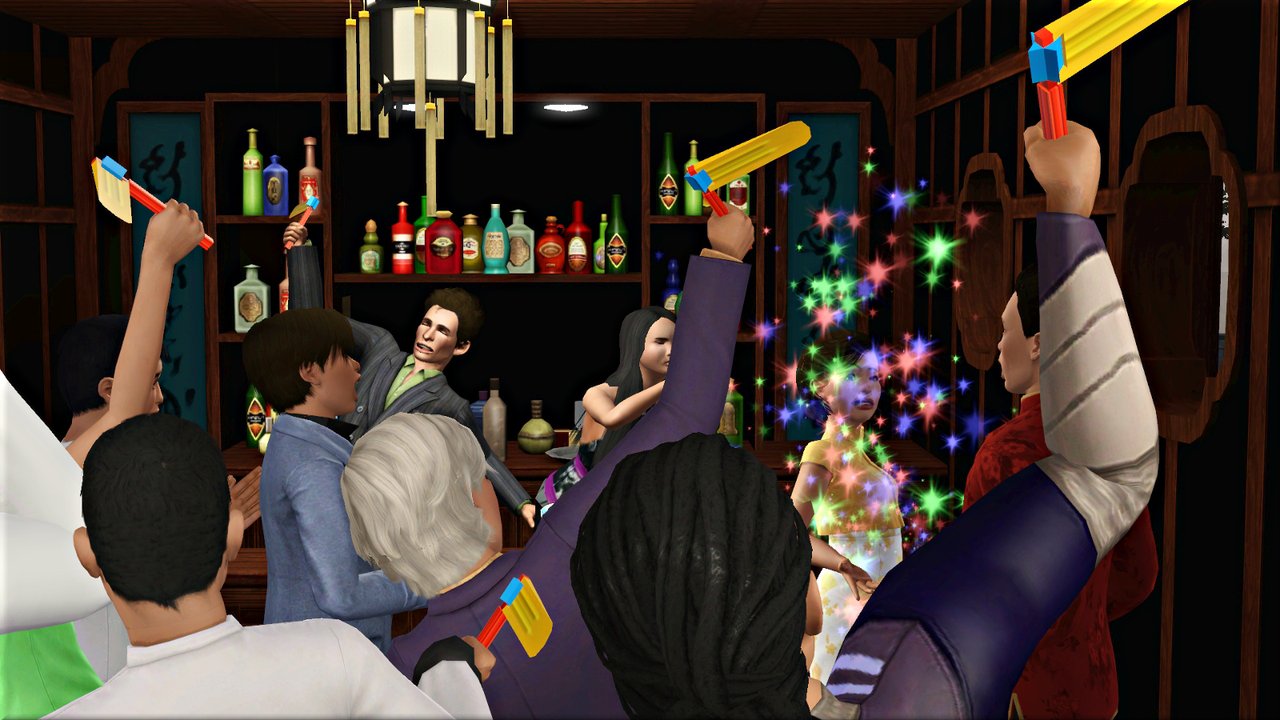 Here she is, a real face clone of her grandma Elisabeth, and of Carter too.
I gave her the gatherer trait, to add to daredevil, over-emotional and computer whiz.
She spoke about computers with Jing, who'd had his birthday too.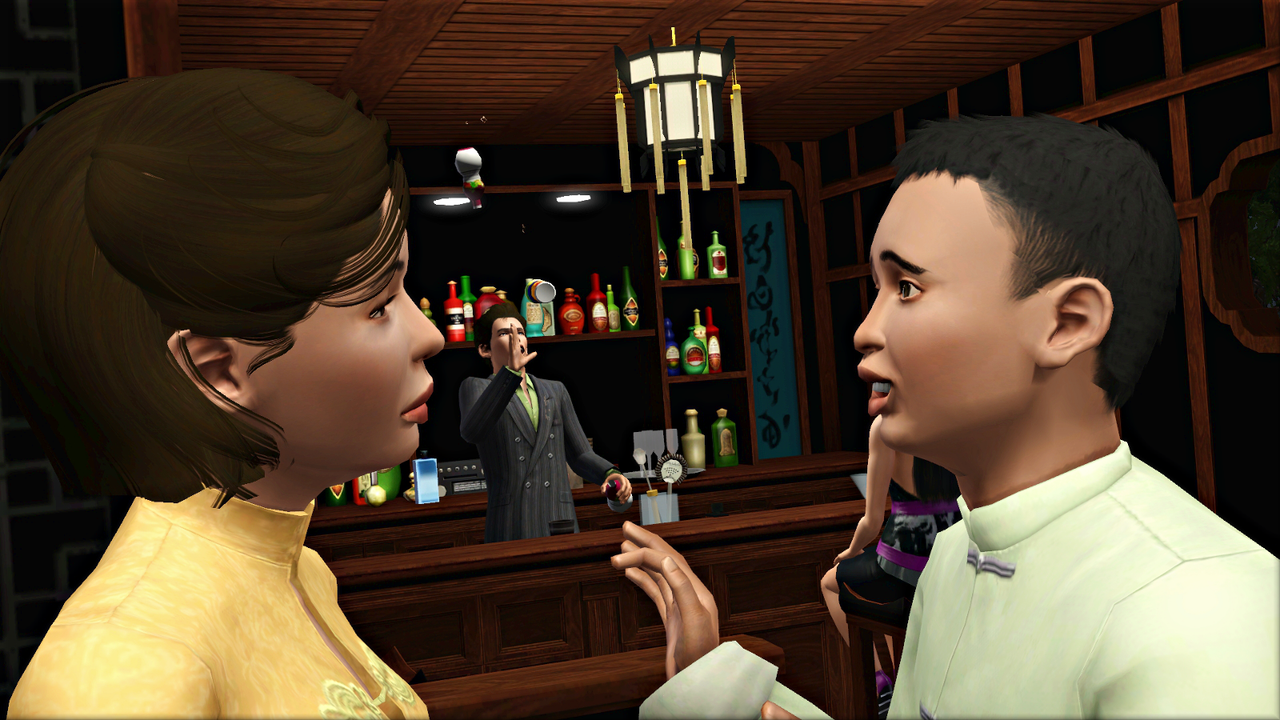 She let her sprite chat with Andrew's.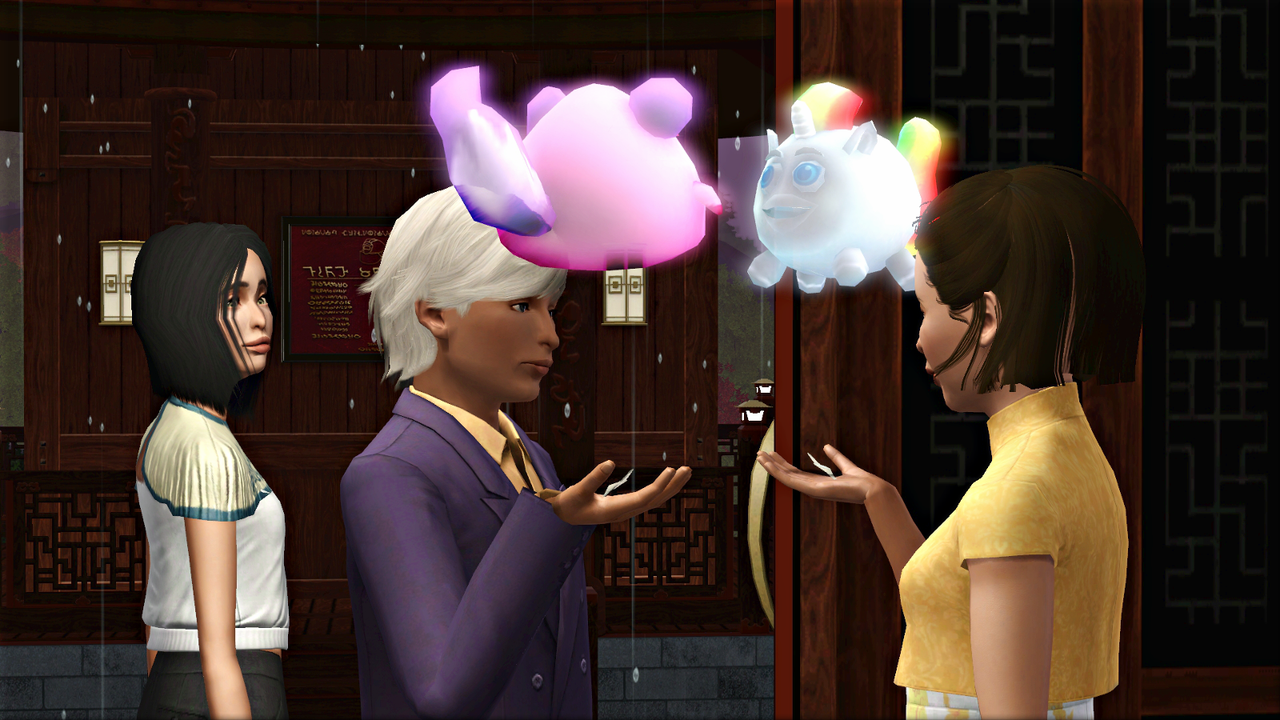 Watch this!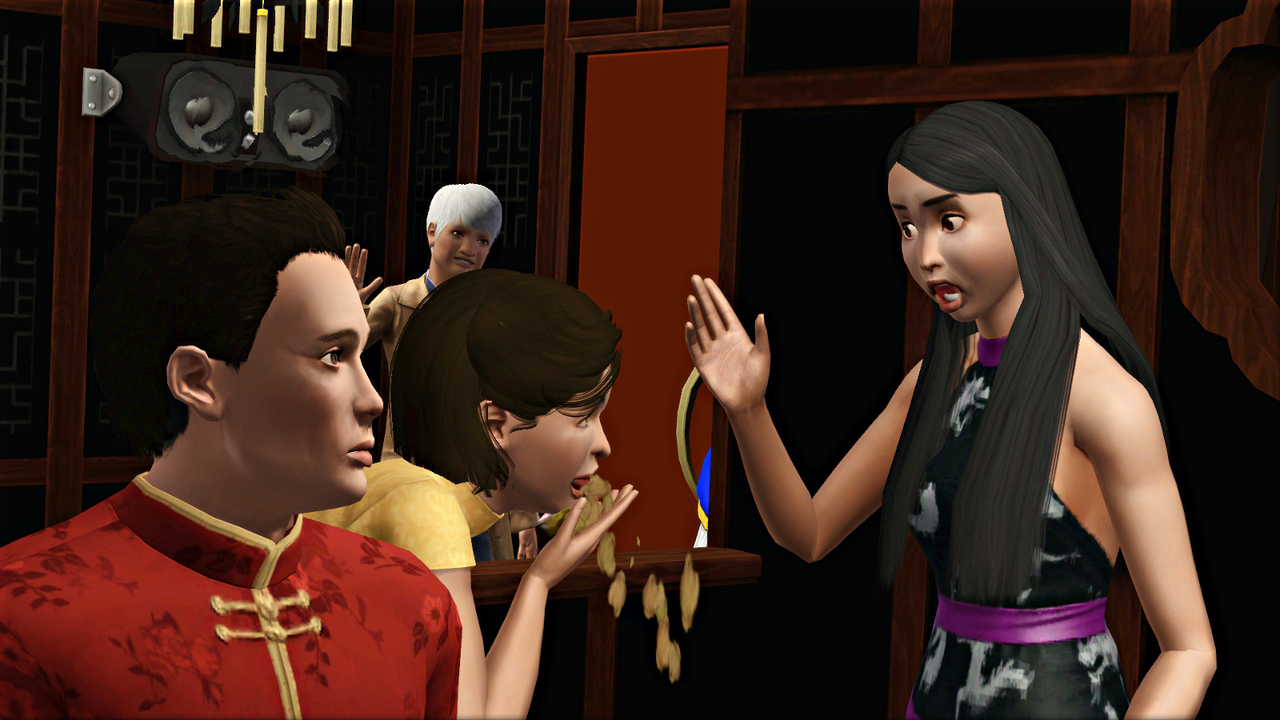 Carter made his daughter her first drink, a galactic gaiety.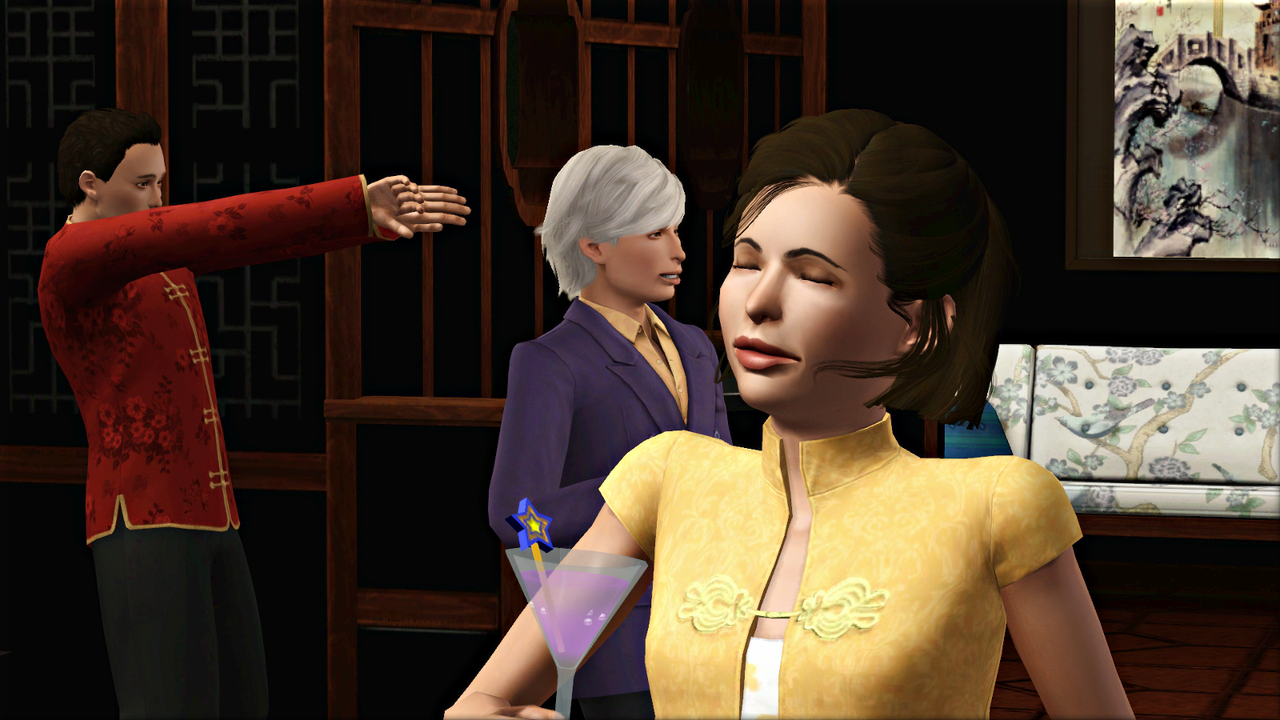 This is one of the recipes awarded for completing the Professor of Drinks challenge. That challenge is broken so I often just cheat to give it to my mixologist sims. The drink gives a +25 'winner' moodlet—which means +31 for over-emotional sims.
Now that Jia's a teenager she can make synthesized drinks too.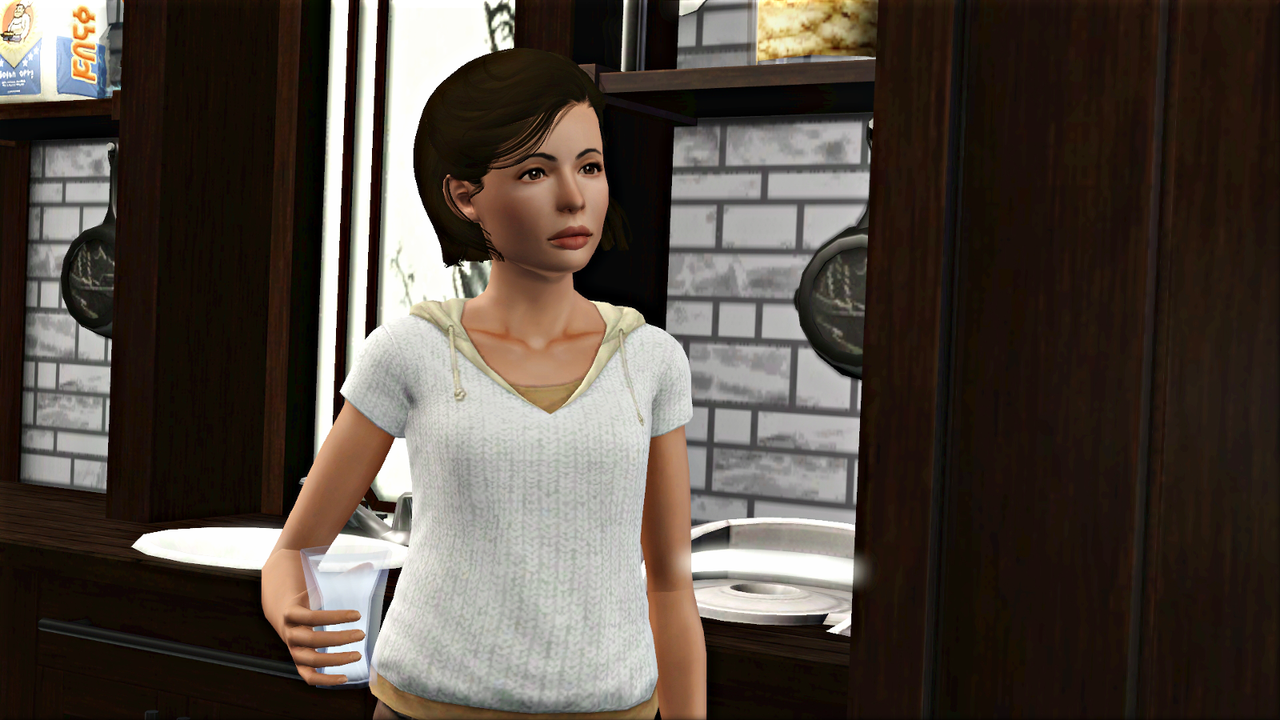 Carter's birthday came right after Jia's. She spent most of the morning at home, upgrading the food synthesizer's quality and programming the Into the Future recipes into it. Carter mixed together some skill gain drinks to help her out.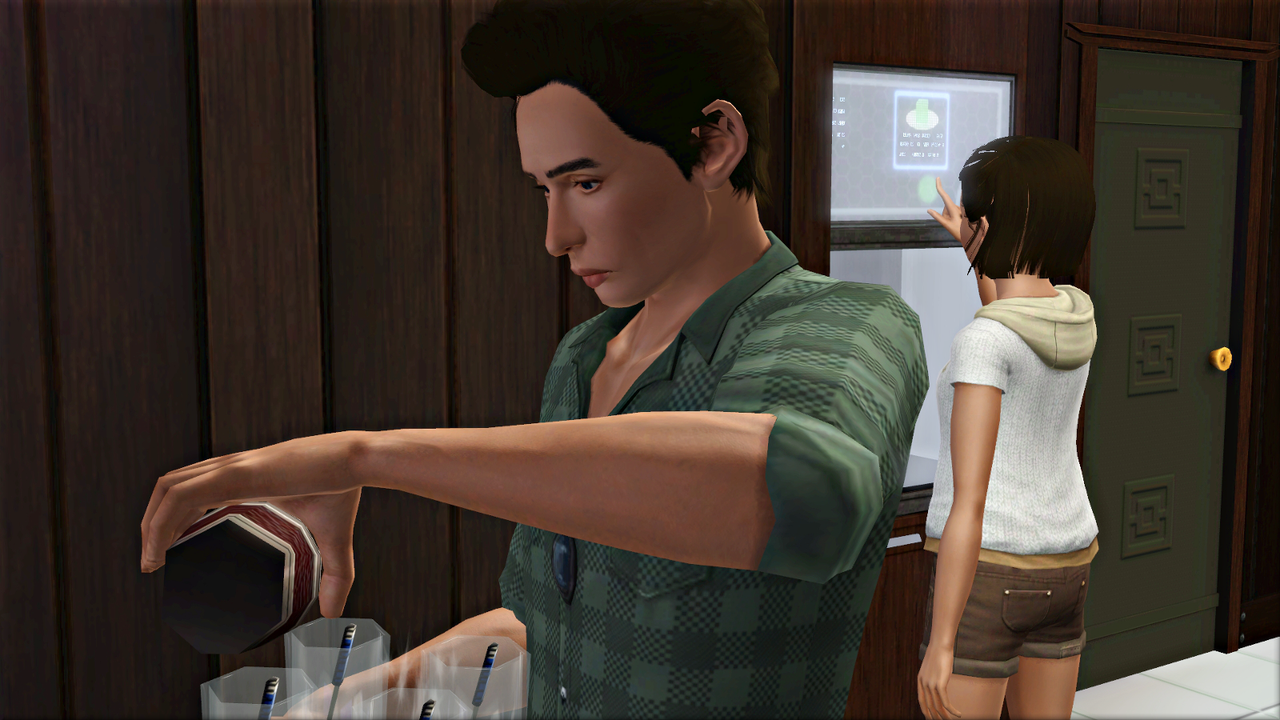 On reaching level 9 of the advanced technology skill, she was able to add the 'power cleanse' function to her sonic shower.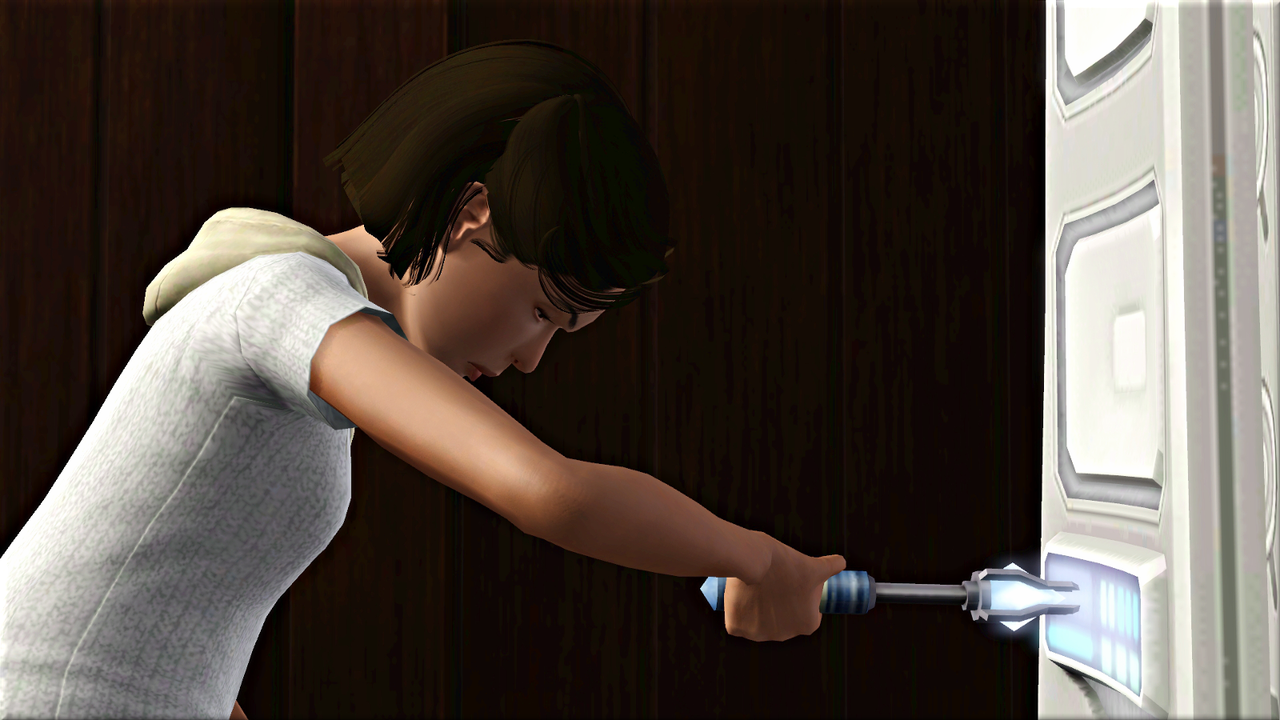 Choosing this option grants a +10 (+12 for Jia) 'pristine protection' moodlet in addition to the +10 (+12) 'favored cleansing' one. The moodlet description suggests that it also freezes the hygiene need for 5 hours. It would be interesting to try this with a gardening or athletic sim.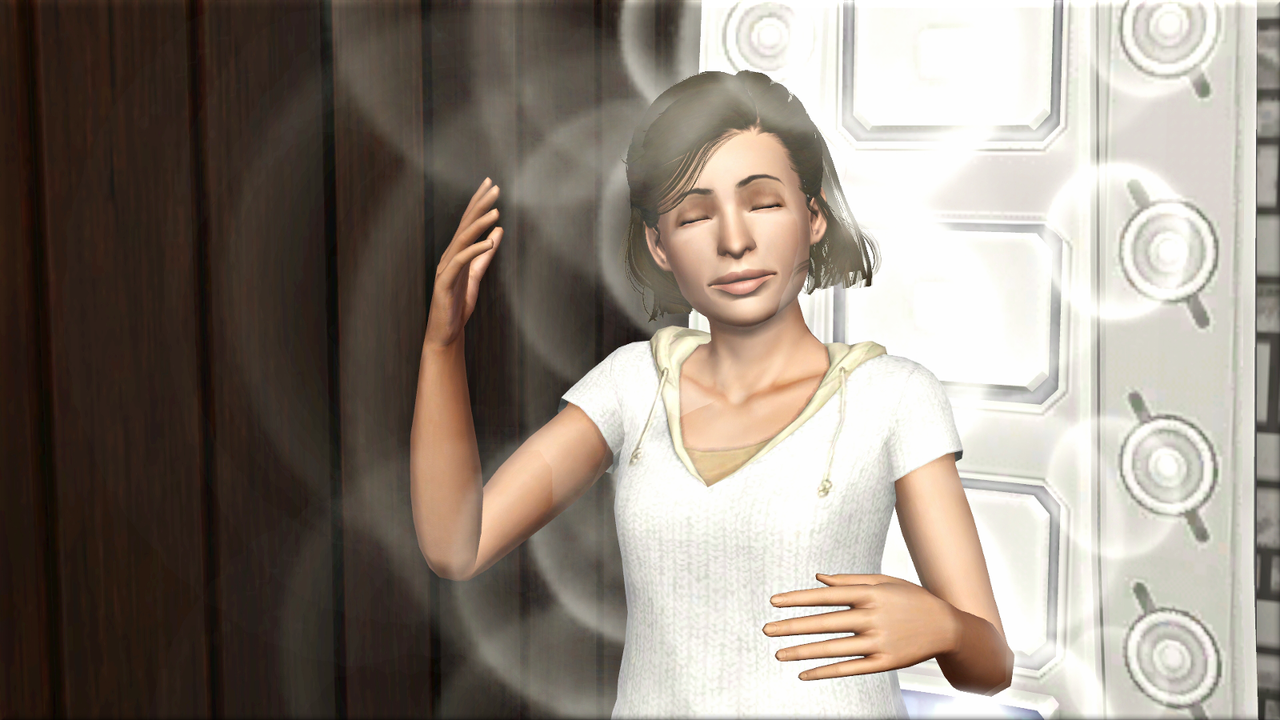 In the afternoon, the family had some sims round to celebrate with Carter.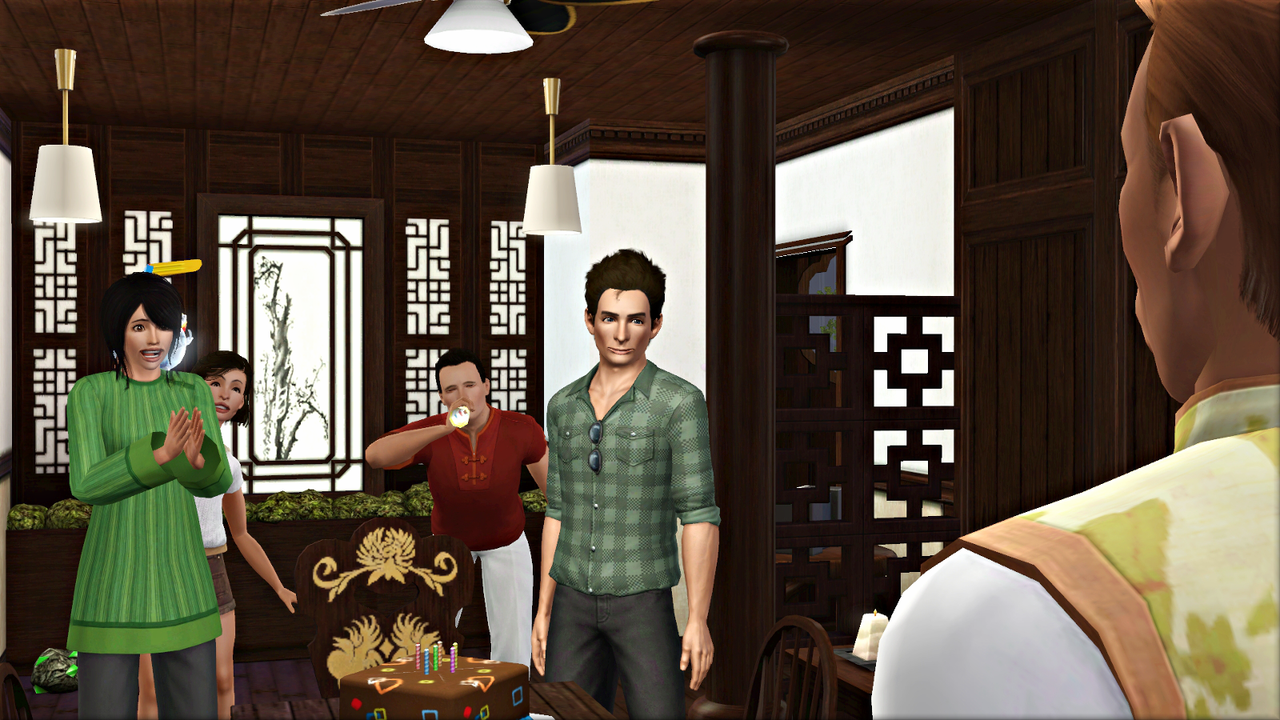 He didn't look too happy about aging up.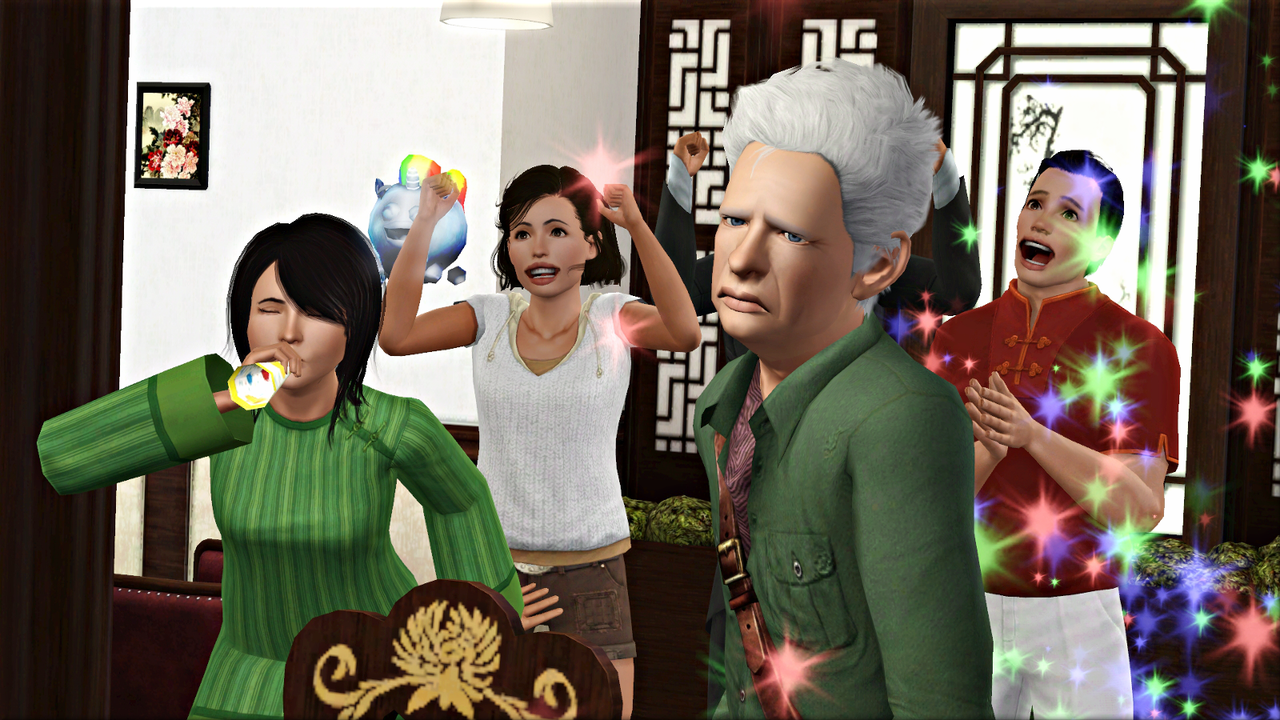 Jia served hamburgers and spheres of destiny from the newly-upgraded food synthesizer.